What is the right approach to developing hardware-based medical devices?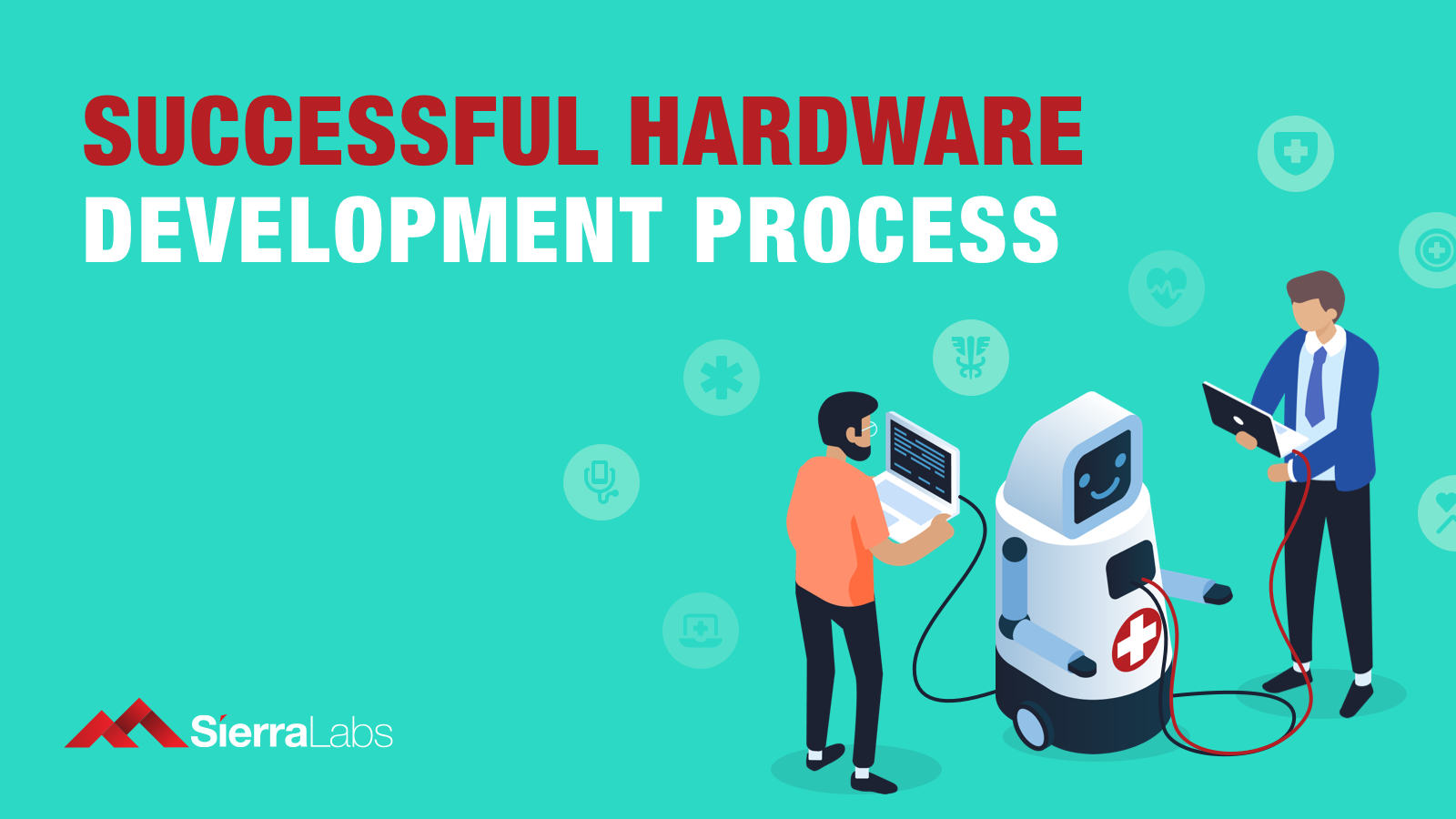 A medical device that contains a hardware component involves complex procedures for many startup teams in the healthcare and life science space.
In addition to meeting solution specifications for patients and end-users, the device's hardware must align with healthcare regulatory requirements. Below you will learn the secret of a successful development process for your hardware medical device.
Device Discovery and Concept
Ideas for a medical device often come from discovering a need in the market such as products that can help people better monitor and manage their health, improve care delivery, or even enable better treatment administration. Medical devices that achieve market approval are usually not unique in its functionality. They often are a variation or an improvement on a previously developed product.
For teams developing a medical device that requires a hardware component to meet their functionality, it is important for you to pay attention to the market and other devices that came before you. Using the FDA Device Approval Database is a great resource for your initial market research as well as with your product's regulatory process by pin pointing if there is an equivalent device on the market you can claim or if you need clinical trials for your product.
Below is a chart that helps teams identify the right regulatory pathway for their medical device: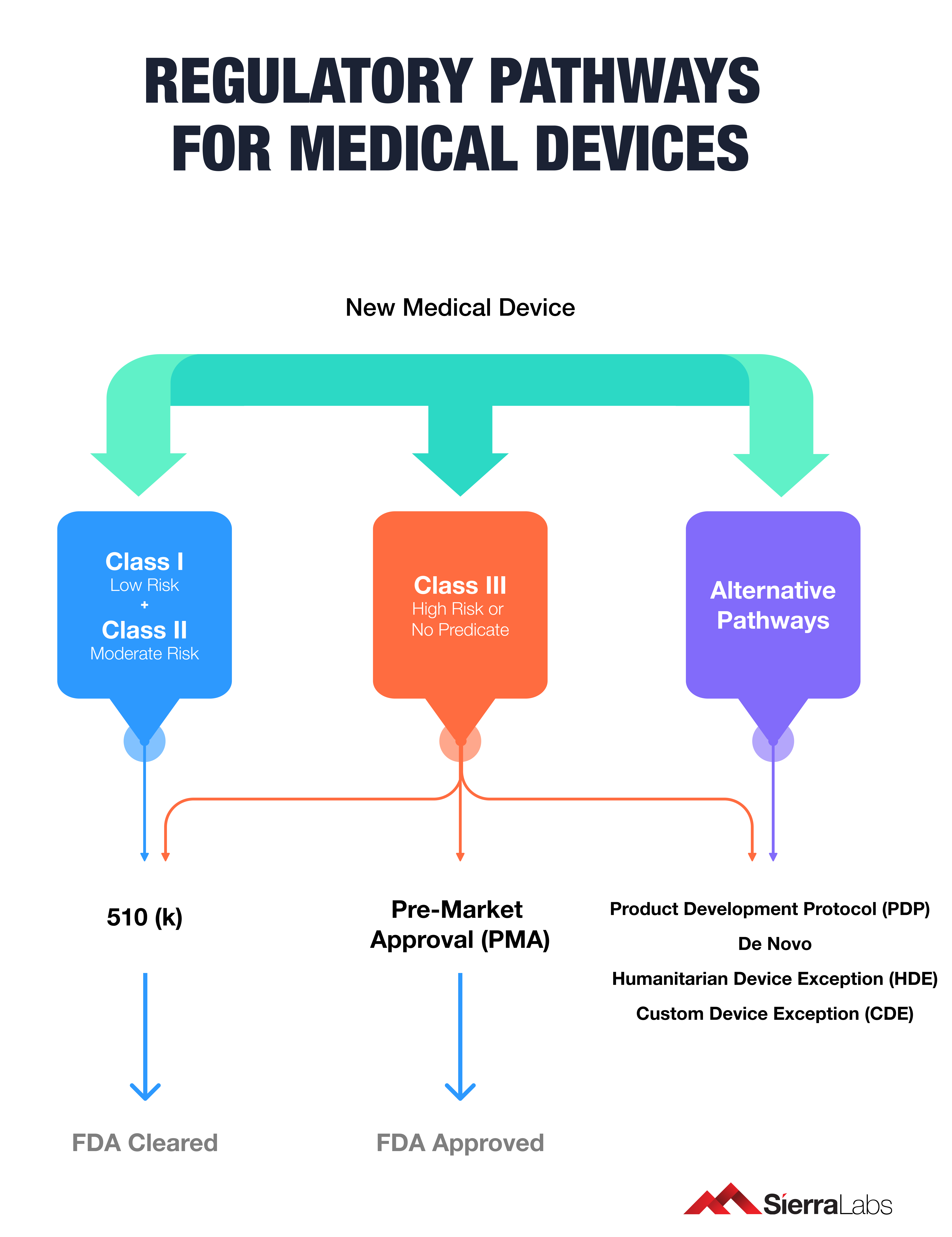 What is the device's intent?
The purpose behind every medical technology lies in the solution it provides to the end-user. The FDA ensures device's meet their functionalities by setting regulations based on their components and type of development. In today's medical device industry, most innovations include some type of software and hardware component.

Yet, it is important to note that not all medical device are classified as SaMD if they contain a software component.
After narrowing your product definition and intent, your team must highlight the procedural considerations of making your device. The FDA has a blueprint for device risk classification. Assessing what category your type of device belongs to will make it easier for your development team to integrate quality processes that adhere to regulations for market approval.
Do you have the right development team?
With a smaller margin for error, your hardware device development must result in a functional product checking off regulatory benchmarks. This next step is identifying the necessary expertise to support all aspects of the hardware development process. A common pitfall in this discovery phase of your product's development is failing to properly evaluate which experts whether it be in engineering or regulatory to include in your dev team.
There are a couple routes here for recruiting the necessary team such as considering whether the team should be in-house or a third-party (external consultant).
For developing hardware-based medical devices, consider gathering expertise from the following areas:
Engineering and Design
Human Factors and Usability Engineering
Clinical and Scientific Knowledge of Medical Industry
Regulatory Affairs and Quality Assurance

Legal and Intellectual Property
Have you addressed regulations?
From health monitoring to care delivery, regulatory standards should be embedded within the development of your hardware development including those that hardware-based. In order to get into the market, the medical device needs to pass through certain regulatory compliances, subject to both regional and international standards.
Standards for device design and performance of hardware development are dependent on biomedical materials, tools, and equipment. As you read above, having a development team will help you get over some of the Pressures and Pain Points of Hardware-Based Medical Device Development.

Having a synchronized system for quality inspections will make development processes much smoother by miles. A Quality Management System (QMS) software that is easily accessible by both your Quality and Engineering Teams will help your product meet QS Regulations under 21 CFR Part 820, mandatory compliance for all medical device development.
How to integrate quality into your development processes?
Product development, from conception to release to market, is a very complex process. It significantly relies on the application of exact processes that enable developers to optimally stage development, testing, validation, verification, and market release.
The optimized solution to reduce risk, maintain quality, and speed innovation is by utilizing an FDA compliant medical device quality management system application. Sierra Quality Management System (QMS) is a QMS for life sciences that allows you to easily integrate risk management into your production process.
Sierra QMS is designed for organizations that are looking to market medical devices in a global regulated environment. It is built for engineering teams to operate with their preferred tool-sets while automating compliance with medical device QMS principles for global markets.
Want to see how implementing Sierra QMS can accelerate your device's journey to market?
Click Here for a Free Demo!
It's that simple.