Leveraging these expectations to ensure the highest level of quality for your Software as a Medical Device (SaMD)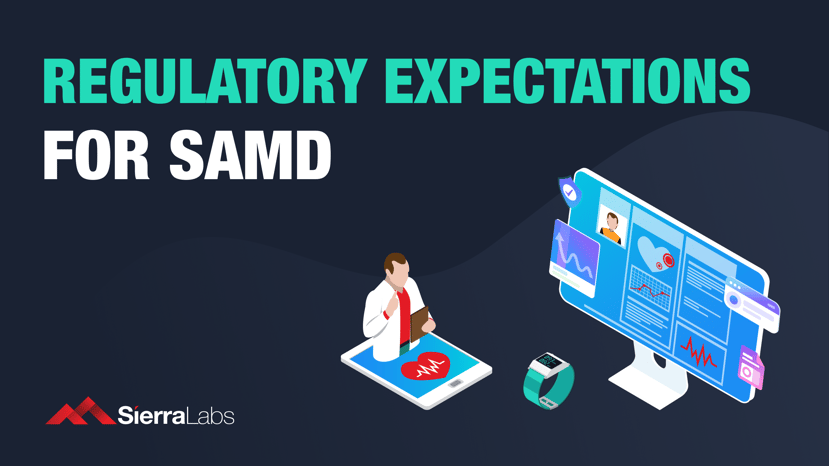 As software becomes an increasingly important part of the medical landscape, ensuring that it is developed and deployed in a safe and responsible manner has become a top priority for regulatory agencies like the FDA. In this blog post, we'll take a look at some of the key regulatory expectations for organizations developing Software as a Medical Device (SaMD).
Regulatory Obstacles for SaMD
Due to the increased complexity of software within medical devices, a more stringent regulatory review by regulatory bodies like the FDA has prolonged time-to-markets. SaMD companies need to understand the risks associated with their product and take proper precautions. If they fail, it could not only result in the termination of your production, but more importantly can cause injury or death for patients who rely on this software as treatment options.
The following standards apply to all SaMD companies, regardless of size:
So whether you're a startup with just a few employees or an established business that has been around for years, understanding the above regulations is essential to your organization's success in the medical device space.
A Quality Management System (QMS) for SaMD should have these 4 critical components:
Product Planning




Developing a successful SaMD requires an organized and detailed plan. The product planning process, which starts in the ideation stage of design, will provide you with all phases necessary for development as well defined responsibilities from start to finish and the resources assigned throughout each phase.
Risk Management




Implementing an effective risk management plan that is integrated throughout the entire lifecycle of your product will ensure a safe and sustainable software development process.
Document Control




The best way to manage your controls is through thorough documentation that demonstrates you have followed the exact procedures outlined in the QMS and achieved desired results.
Configuration and Management Control





Recording all the parts that go into SaMD along with any changes in history will help you retrieve or recreate any past iterations from your development phases, ensuring evidence of improvements in usability and compatibility for users.
With a wealth of data at your fingertips, you'll be able to make informed decisions with confidence and take action to address nonconformities that may arise. The main goal for this regulatory requirement is to establish a risk-based framework using Corrective Action and Preventive Action (CAPA).
Keep Your Team Informed
Lastly, it is imperative to have proper systems and procedures in place with your team to elevate your level of quality control. Maintaining this standard will ensure that your company has everything they need when it comes to developing Software as a Medical Device (SaMD) to decrease the number of mistakes made along the way and to follow best practices right out of the gate!
To ensure a smooth development process, it is important that deployment activities are clearly communicated with your team throughout the process. Using a tool like a QMS can help your team not only document but also share with each other the necessary procedures followed during work cycles. Strong communication paired with a collaborative eQMS (electronic Quality Management System) will boost transparency and help your organization mitigate risks of non-compliance or product quality issues in real-time.
How Sierra QMS Can Help Your Team
Navigating the complexity of the regulatory industry can truly be made simple, and all of the weight should not fall on your shoulders. There are tools that can make the process of navigating regulatory requirements easy and stress-free. One such resource is a Quality Management System (QMS), which will help you reach your market goals with minimal worry and maximum efficiency.
Sierra Labs' Quality Management System, Sierra QMS, has helped many medical device companies implement proper management, document, and design controls. With our easy-to-use software, your quality manager will effortlessly access and reference the materials to perform their role.
Don't have a quality team? No worries! Sierra Labs can act as your remote quality team, helping you implement your QMS into your current operations
Sierra QMS is designed for organizations that are looking to market SaMDs in a global regulated environment. Its incredible integration capabilities are built for engineering teams to operate with their preferred tool-sets while automating the compliance process with SaMD QMS principles for global markets.
Want to see how Sierra QMS can help your organization?
Click Here for a Free Trial!