A deeper dive into crucial policies for Software for Medical Device (SaMD) Organizations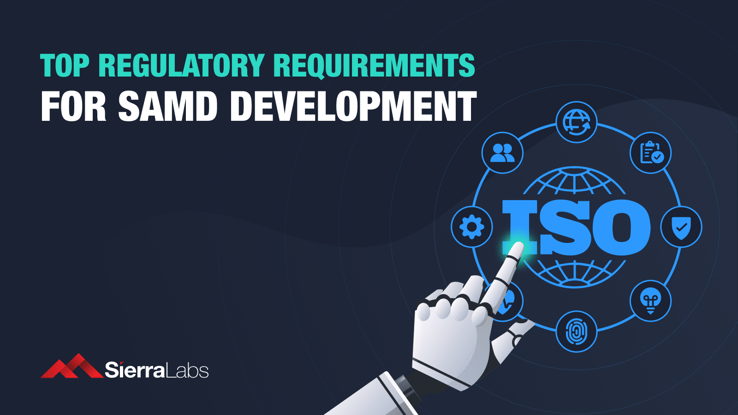 When it comes to software development for medical devices, there are several key requirements that must be met in order to ensure a safe and effective product.

In this article, our compliance experts will take a closer look at some of the regulatory considerations for medical device software and SaMD to keep your development process on track with global standards for going to market.
Who dictates the guidelines for SaMD?
International Medical Device Regulators Forum (IMDRF) and U.S. Food and Drug Administration (FDA) release publications to give guidance on Software as a Medical Device and to improve existing regulations.
One of the groups regulating and monitoring the emergence of Software as a Medical Device is the IMDRF, mentioned above. It develops internationally agreed-upon documents for a range of topics having to do with medical devices. The IMDRF presents information on SaMD classification, including the responsibilities of a manufacturer as well as labeling and instruction standards for these types of software.
Here is a further breakdown into the basics of Software as a Medical Device (SaMD): risk categorizations and examples.
The major regulatory body for SaMD in the US market is the Federal Drug Administration, or the FDA. They continuously release various guidelines relating to SaMD that aim to help control the process of using this type of software in the field.
Why is Risk Classification important?
Software as a Medical Device is classified in four categories (I, II, III, and IV) based on the risk to the patients or public health where accurate information provided by the SaMD is used to treat or diagnose, drive or inform clinical management is vital to avoid death, long-term disability or other serious deterioration of health, mitigating public health. The Level IV category of a SaMD contains devices wirh the highest impact on the patient or public health and Level I the lowest.
Learn how to risk categorize your SaMD and effectively manage its development process with this blog.
Top Regulatory Standards for SaMD
The regulatory landscape is a complicated one, but it's important to understand that from the perspective of regulators like FDA and others - whether you think yourself as manufacturer or developer - SaMD will always be considered medical devices and thus need to be regulated accordingly.
The following are the top 3 regulations that your organization should consider before submitting any documentation for market approval:
Regulation / Standard
Summary
21 CFR Part 820
Quality System Regulation (QSR)
21 CFR Part 820 still very much applies to SaMD. It's essential that you document and control your design and development activities into release and post market according to the applicable requirements from 21 CFR Part 820.
ISO 14971
Application of Risk Management to Medical Devices
ISO 14971 specifies the process for risk management of medical devices, software as a medical device (SaMD), and in vitro medical devices. The standard outlines a process for medical device manufacturers to identify hazards, evaluate the risks associated with them, and implement risk controls.
IEC 62304
Software of Life Cycle Processes
IEC 62304 specifies a framework for the processes, activities, and tasks that occur throughout the lifecycle of medical device software. This standard defines the lifecycle for Software as a Medical Device (SaMD), software as a component of a medical device, or software that is used in the production of a medical device.
Understanding the Future of SaMD
The FDA and IMDRF are working to stay on pace with the growth of medical devices that are software-based. They recognize that SaMD will only continue increasing in use as available technology becomes more sophisticated, so it's important for them not only update but also distinguish what exactly falls under "safe" or 'unsafe'.

You can reduce your worries about meeting the requirements discussed above for SaMD with a Quality Management System (QMS) in place. With less work on your plate, you'll have more time to focus on developing safe and effective software solutions for healthcare.
How Sierra QMS can help your teams
Deciding the correct regulatory approach for your medical device can be a hectic process, mainly because it requires a high level of documentation. Manual documentation can further delay development processes.
Sierra Quality Management System (Sierra QMS) is designed for organizations who are looking to market SaMDs in a global regulated environment. Sierra QMS allows you to easily integrate risk management into your production process and operate with your own preferred tool-sets.

Our solution offers you a robust start to identifying relevant regulatory requirements pertaining to your SaMD's risk classification. It is built for engineering teams to operate with their preferred tool-sets while automating the compliance with SaMD QMS principles for global markets.
Want to see how Sierra QMS can help you easily
reach your regulatory goals?
Click Here for a Free Trial!