Four main areas of an eQMS your organization should test before purchasing!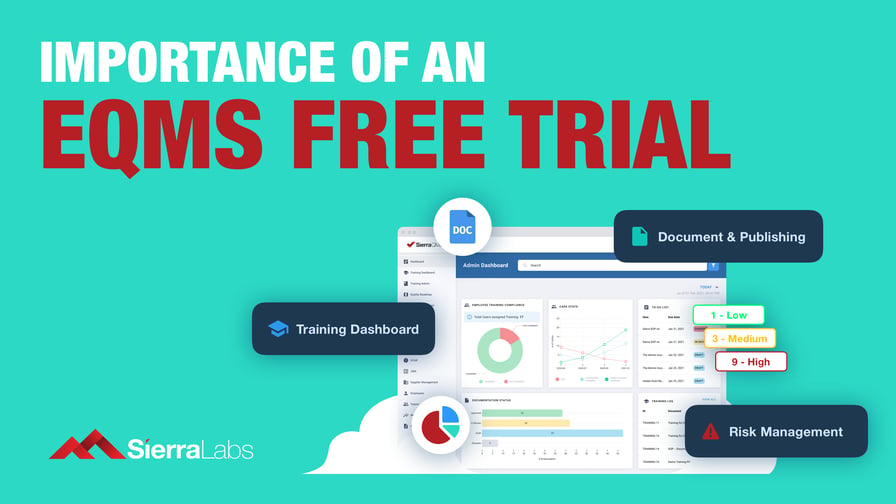 Every Healthcare and Life Sciences company requires a different level of organization based on their product's quality objectives. SOPs, Policies, and Procedures vary across different organizations depending on size and development needs.
So what do all of these companies have in common? – The need to have an organized and thorough quality management process to track compliance with associated regulations and standards. However, not all Quality Management Systems are created equally.
This blog will cover the key reasons why an electronic Quality Management System (eQMS) is vital to your success in the regulatory industry and why that system should be customizable and scalable to fit your organization's needs.
Eases the transition to a new system
Implementing a quality management system is not always easy, but choosing an eQMS that's customizable to your current organizational processes and integrates with the tools you already use eases the transition. It's important for the eQMS you are adopting to be user-friendly and customizable so that there are no unnecessary burdens on your team.
An eQMS serves as a framework for your team's quality roadmap and should be built and customized to your product's individual regulatory hurdles and minimize any additional unneeded modules that only add complexity. Since your eQMS gives you the tools to overcome quality objectives, your team should have the assistance on how to utilize every module for overcoming a quality objective.
In our compliance expert's experience, when working with organizations without a quality team, there is a frequent lag when deciding on what modules to choose. This is often due to the organization not yet having a quality roadmap for its product nor knowing what regulations apply to its medical device.

It can be difficult to dictate which configurations are needed for your individual eQMS without a high-level quality expert. At Sierra Labs, our mission is to be there every step of the way to ensure your team understands every role and responsibility in your QMS. This includes thorough guidance on the practical and affective aspects of each integration, module, and capability available. We structure our system to be as customizable and scalable as your quality roadmap requires, as well as provide a smooth transition to adopting this new system.
Learn how your company can form a Regulatory Strategy in 8 easy steps.
Provides configurable workflows
Your QMS provider should contain an easy-to-use interface for workflow management, automating approval, and review processes for every individual and team in your organization.
It is important to have a centralized platform that generates workspaces and limits their accessibility depending on workflows for reports. An essential tool to simplify the workflow of your team is using customizable search filters for identifying specific records.
Secures records through permissions
Never worry about security oversights with an eQMS that grants you the ability to update permissions for all of your members. Your eQMS should ensure that only the right person sees and approves specific responsibilities assigned, keeping delays away from workflows.
Every organization has a different level of oversight depending on which departments or teams are involved in the lifecycle of your product. Because of unknown status changes to development, known as CAPAs, your permissions should be adaptable to your organization's number of roles and types of responsibilities.
There can be hundreds of change records and requirements that have distinct levels of importance to your product's development. A scalable solution is a system that protects all records from being destroyed. This is why preventing who and when someone can see these records is a vital tool for your eQMS.
Dashboard for everyone on your team
There are multiple benefits to having a customizable dashboard for your eQMS. The first is that it reduces the time to learn for every member on your team, from DevOps to Engineering. You are able to manage the organization of your statuses and projects based on priority. This will allow your team to have a high level of visibility with limited capacity for human error such as communication issues or deadlines.
Have multiple products in development? An eQMS can allow you to jump from one dashboard to the next seamlessly. This way all urgent requests for your product's development are being met, reducing lags for market approval or production. Using a configurable dashboard, your platform will serve as the single source of truth for your team keeping them all on the same page and on track.
eQMS platforms that integrate with Atlassian's Jira make it even easier for your organization to transition to a digital tech stack. An eQMS that pulls information from Jira into its dashboards and allows you to edit tickets and work seamlessly between the two systems is essential for software development teams.
Learn more about eQMS and Jira integration and its seamless features in this blog!
How Sierra QMS can help your teams
Sierra QMS is highly customizable around your current organizational practices and designed to scale with your company's growth. Unlike other eQMS software in this space, its configurable nature paired with its user-friendly interface makes it suitable for any company size at any life cycle stage.
Sierra QMS is designed for organizations that are looking to market solutions for the Healthcare and Life Science spaces. It is built for engineering teams to operate with their preferred toolsets while automating compliance with QMS principles for global markets.
Along with the system's customization capabilities, our Compliance Experts are accessible for support throughout your entire implementation process to ensure smooth adoption and future usage of your QMS.
Don't have a quality team? No worries! Sierra Labs can act as your remote quality team, helping you implement your QMS into your current operations
Sierra QMS has helped many Medical Device, Biotech, and Pharma companies implement proper regulatory management, documentation, and design controls. We'd love to help you as well!
Want to see how Sierra QMS can help your organization?
Click Here for a Free Trial!
Ask us anything.