Using Atlassian's Jira framework to transform and boost DevOps!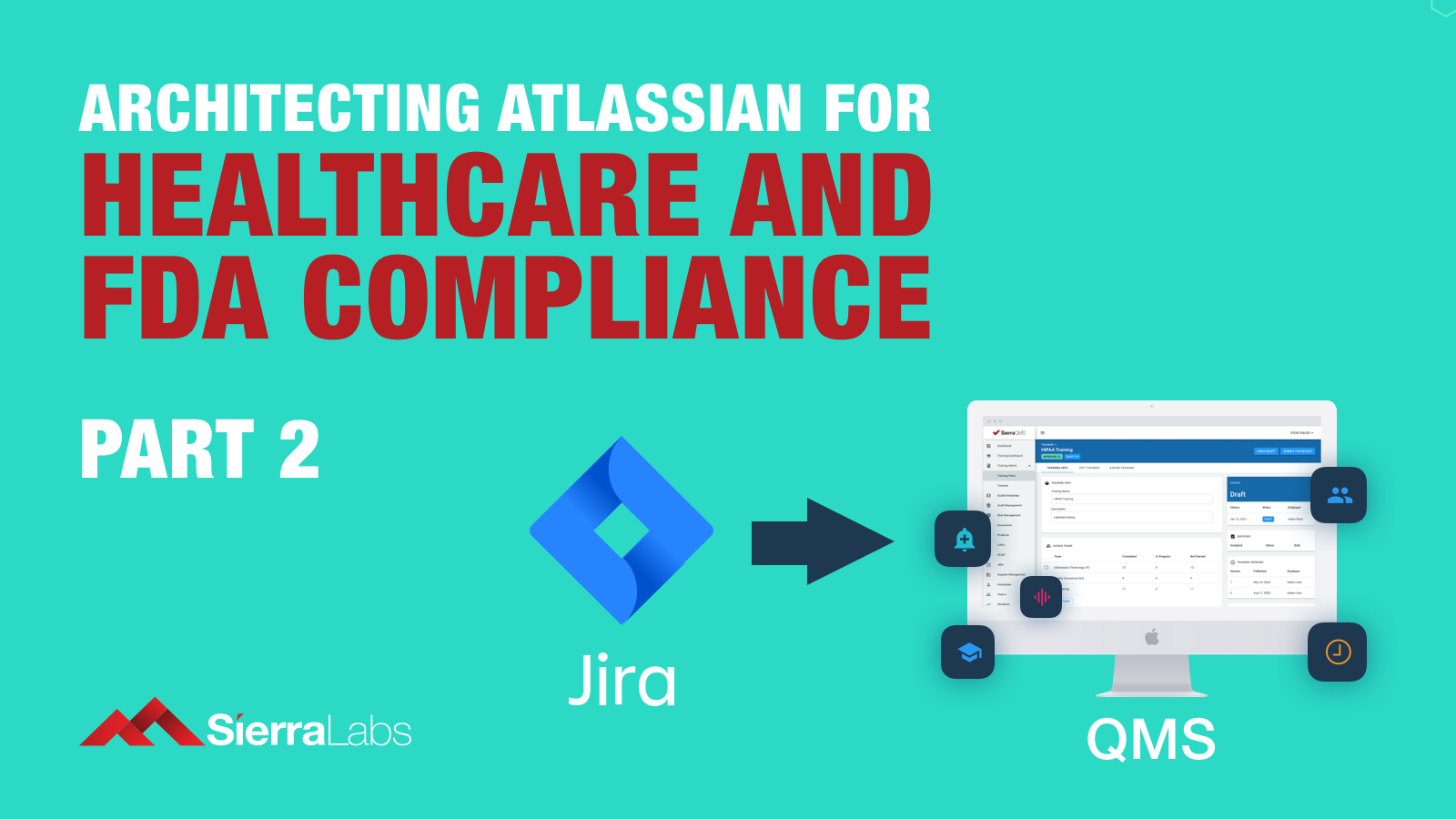 What is DevOps?
If your team is developing a solution for the medical device or healthcare industry, then you are most likely familiar with agile methodology. Development Operations, or "DevOps" for short, is the meeting point between teams who contain experience in engineering or operations.
DevOps usually face a multitude of challenges on many levels. We are going to focus on the issues pertaining to collaboration, context switching, and even visibility for these teams and how they can adjust using a new toolset. After working with many small to midsize level teams who are developing medical solutions for this space, our compliance experts understand there is an urgent need for tools that can integrate automation while leveraging observability into DevOps.
As you learned in the first part of this blog, a Quality Management System (QMS) should be an open toolchain that can be customized for a team's needs with different tools. A QMS with the ability to integrate with Atlassian's Jira is a one-stop-shop for DevOps with customized best-of-breed tools.
Understanding Decision-Making Framework
Whether you are making decisions on your own or as a team, decision-making isn't an easy task. The teams that make up your DevOps represent a wide variety of expertise and experience, and that can cause conflict when a decision needs to be made. Aside from being frustrating on a personal level, the resulting delays actually harm our work and productivity. The longer your team deliberates over decisions, the more time you waste. Time that could be used to act.
Using a QMS that is integrated with Jira will help your team establish a unified framework for decision-making. Yet, it is important to understand the current framework your team operates in. Our compliance experts have classified them under these four categories:
| | |
| --- | --- |
| Decision-Making Frameworks | Description |
| Complex | Trying to make your own decision. Start to probe the complexity of the situation and interpret situations in different ways. You think of potential outcomes. Respond to these variations. |
| Complicated | Make decisions based on the analysis given the situation but there is a variation of responses with a broader sense of information usability. Customized solution for your team. |
| Chaotic | Given the actions already made, teams try to make sense of what they have already done and then respond to it. |
| Obvious | Best practices are found because there is the same output across all segments and people. Once it is obvious it is easy to go back to complicit with those practices and flip to a chaotic state. No clarity on how the team is operating. |
Don't Be Afraid to Over-Communicate!
In a remote work setting, it's vital to "over-communicate." Be very clear all the time about what you are working on, why, how, and when. Over-communication feels almost like an externalization of your key decisions and reasoning so that people can easily reconstruct the sequence of thoughts that led you to your current work.
Following these tips will help your organization solidify well-defined interactions and boost effectiveness in developing medical solutions, especially for remote working teams.
One Unified Source of Truth
The COVID-19 pandemic has ushered in a new remote-first world for IT, with many organizations struggling to catch up with new tooling and ways of working. There is a piece that is commonly overlooked for DevOps. This is data!
As you learned in Part 1 of this blog series, you need to have a single source of truth if you want to have effective communication. Having visibility across your teams – what the other worker is looking at – not siloed separate from DevOps to engineering. Each team creates the same perception that is based on your common source of truth.
Using Jira, everyone in the group has access to knowledge, tools, and resources at all times. By centralizing information with a single source of truth, your team's objectives can be clearer to everyone, both engineers and operations.
Don't Let Compliance Hold You Back!
Simplify your organization's use of different systems. Replace 13 systems with Jira (1 system) and find a QMS, like Sierra QMS, that integrates with Jira. Imagine the amount of simplification that can be created using one system with all vital information. This allows your organization to quantify dependencies between tasks and teams while tracking regulatory compliance.
Sierra QMS helps medical device, biotech, pharmaceutical, and clinical research companies to reduce their regulatory compliance burden by providing them with customized software solutions that integrate with Atlassian's Jira and Confluence. These software products enable companies of any life-cycle stage to streamline regulatory documents and quality management processes.
Sierra Labs is focused on aligning engineering/IT teams with quality and compliance teams in FDA-regulated environments. Our automated eQMS, cloud validation system, and other agile tools are designed to be easily adaptable in pre-existing workflows and assist teams in producing validation and verification artifacts needed in high-quality environments.
Want to see how implementing Sierra QMS can accelerate your journey to market?
Click here for a Free Trial!
It's that simple.
Check out our compliance leader's full Atlassian presentation on this subject below: