How Sierra Labs and TLS Partnered to Streamline Their Quality Process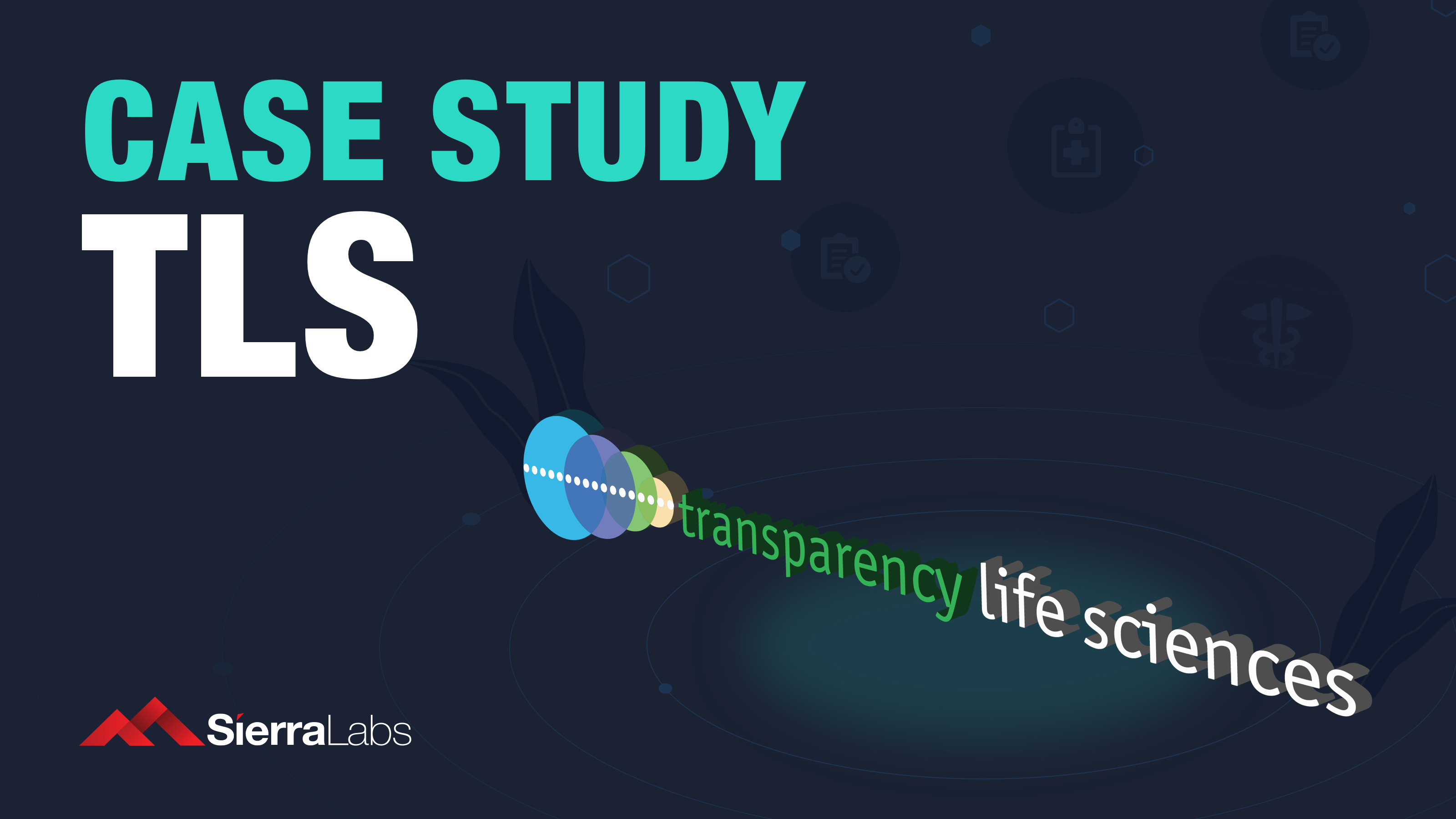 Background
Now more than ever, study sponsors are looking to execute clinical trials in hybrid or virtual models that put the patient experience first. Currently, the ability to bring together the right technologies to execute hybrid and virtual studies remains murky and haphazard, especially from the perspective of presenting a coherent quality and validation program around the technology. Transparency Life Sciences has developed a clinical trial orchestration hub that integrates telemedicine, mobile health, and cloud technology to conduct patient-centric studies through an integrated portal, resulting in reduced time to market.
Transparency Life Sciences' HIPAA-compliant Orchestration Hub allows for the execution of hybrid and virtual studies tailored to the unique protocol needs, which enables the integration of specific technologies that apply to the needs of the trial. The researcher interface and patient portal bring together the relevant toolset into one place for managing patients, their experience, and the requisite modules to run the study.
Identifying an Opportunity in Quality Management
Before partnering with Sierra Labs, Transparency Life Sciences managed their document controls, internal trainings, business processes, and audits with digital and paper-based systems and workflows. TLS quality program's commitment to continuous improvement saw an opportunity to better organize and automate quality processes with a more holistic and modern QMS to streamline quality management processes as well as customer audits.
Using tools like Microsoft Word, Excel, and Google Spreadsheets can impede life sciences technology organizations' ability to swiftly advance from one stage to the next in the product development process. Managing quality outside of a QMS can hinder the implementation of continuous improvement initiatives or CAPAs. Paper-based systems can also become a bottleneck for companies experiencing rapid growth.
Audits and inspections by regulatory organizations like the FDA are much more daunting without having a quality system that efficiently organizes documents by automating certain quality processes. Paper-based systems are slow and lack efficiency forming limitations for even remote employees. Startups that lack a digital toolset to break geographic limitations ultimately get backtracked in their preparation for regulatory audits and submissions.
Pairing TLS with a Validated QMS
See below how Sierra Labs built a tailored Quality Management Software (Sierra QMS) for Transparency Life Sciences which helped elevate their quality program:
Document Management



TLS now enjoys easy access to all regulated documents as well as version control of each document for easy traceability. They can record and maintain electronic signatures that are compliant with 21 CFR Part 11 regulations.



Training Management


TLS can better develop training plans and generate training materials within the QMS that can identify the roles needed for training and approval.



Dashboard


TLS engineering and quality teams can monitor document lifecycle and statuses in the QMS and verify training progress and completion.
Digital Solution for Managing Non-Compliance
An automated quality management system provides an organization with the tools to streamline the end-to-end quality management process. With automated change control, Transparency Life Sciences gains full visibility into the status of any reviewal or approval request. This expedites controlled document drafting, review, and approval processes by 50% to advance into the next phase of their product development and advance closer to audit or regulatory submission.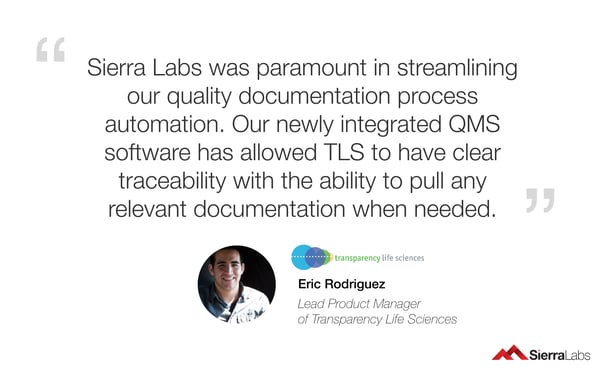 Compliance Made Easy
Having a centralized automated quality system will elevate the quality standards of a life sciences organization's processes during this unprecedented time. Without a Quality Management System (QMS), teams may fall short due to the lack of a controlled system to conduct reviews and approvals affecting your business' quality processes.
Sierra Labs helped Transparency Life Sciences automate quality processes by implementing a digital solution to enforce quality controls across development processes and capture quality records within an electronic QMS. The result is improved efficiency, speed, and reliability.
Sierra QMS is a QMS for life sciences that will automate workflows and documentation and instantly increase the level of security your team needs to deliver a quality solution. Having the proper tools to manage your business during this time starts by centralizing all activities and tracking the progress of work to avoid setbacks. In a remote working environment, workflow automation makes all of this possible.
Want to see how implementing Sierra QMS will help you achieve quality processes?
Click Here for a Free Demo!
It's that simple!