How to utilize ISO 13485 to acquire a CE Marking on your Medical Device.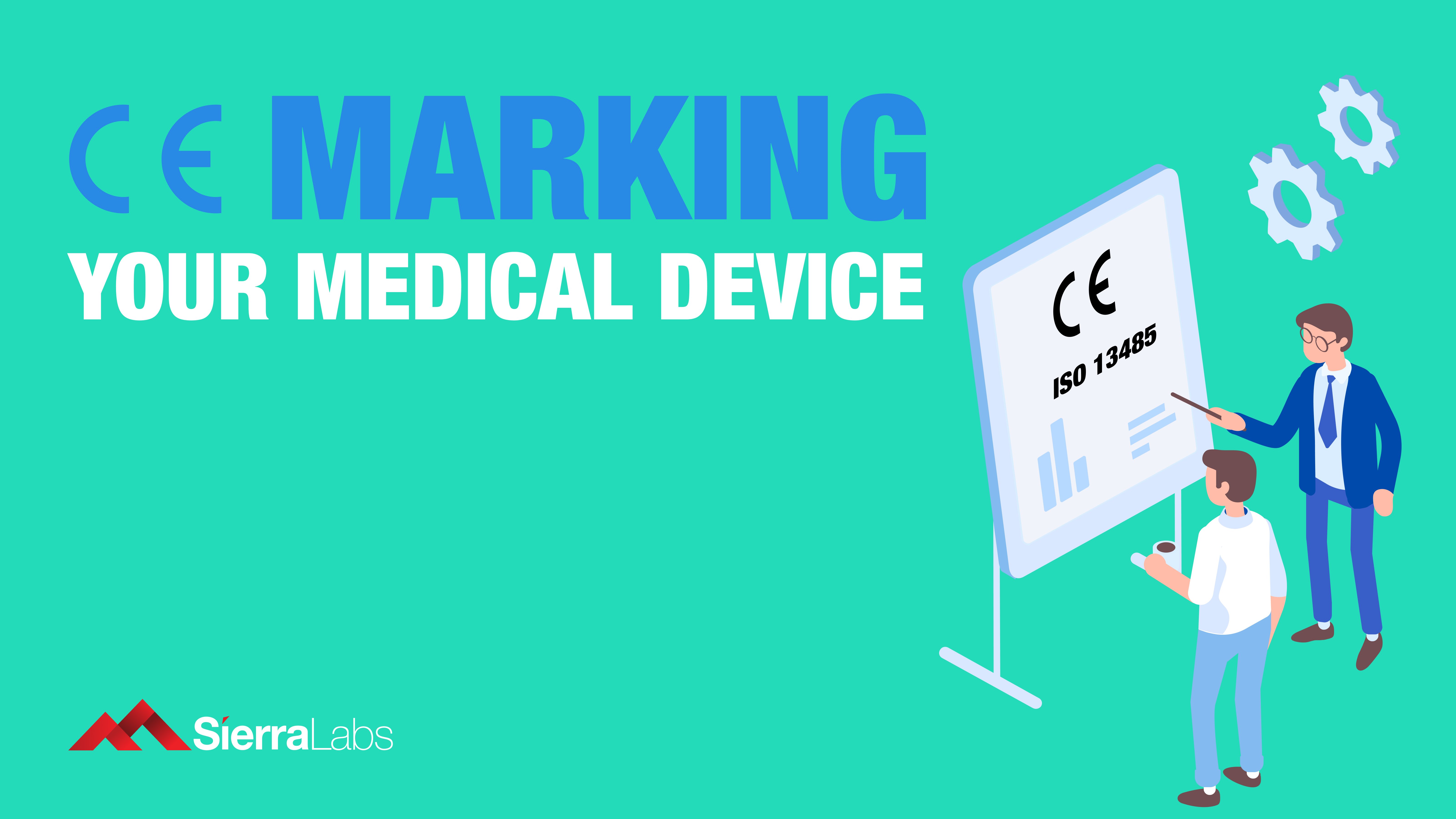 What is a CE Marking?
The (CE) mark stands for "Conformité Européene", meaning European Conformity. Since 1985, the CE marking has distinguished products as compliant under European product safety legislation.
This marking is important because it allows consumers to identify whether or not a manufacturer, importer, or party responsible is following compliant processes based on their ability to provide appropriate technical documentation of manufacturing.

Before any product can be sold on the European market, it must be affixed with the CE Mark. The mark indicates that a product:
Complies with the European Union's New Approach Directives.
Meets all safety standards and performance requirements.
Satisfies its purpose without endangering lives or property.
Why you should know the EU's New Approach Directives?
The New Approach Directives not only apply to products manufactured within Europe, but also for products that are internationally imported and designated to be sold within the European market.
CE marking is mandatory for products that fall under one of the 25 CE Directives or Regulations. When a product is not covered by one of these Directives or Regulations, affixing the CE mark is forbidden. Often, more than one Directive or Regulation can be applicable to a product.
CE marking is not required for products such as pharmaceuticals, chemicals, cosmetics, and food.
Benefits of CE Marking
Free movement of goods

Transportation of products within the member states of the European Union is not limited by any restrictions.

High level of health, safety, and environmental protection

Because products meet the requirements of European "New Approach" Directives, products have a high level of health, safety, and environmental protection.
Steps to Acquire CE Marking
Reading about all the benefits this mark can give your medical device can make you wonder how many obstacles there are? We have created a step-by-step guide for your device to achieve a (CE) marking.
Step
Description
1) Identify Device's Class Category

As a medical device manufacturer or importer in the European market, you must identify the class of the device according to the associated level of product risk into.

Class I (lowest risk)

Class IIa

Class IIb

Class III (highest risk)

2) Assess Directives that Apply to Device

Make sure to inspect that your device complies with the requirements of applicable EU directives:

Intended application must be suitable.
Safety for operator and patient must be up to standard.
Benefits of use must supersede any risks.
Ensure there is no harmful impact on device during transportation and warehousing.
Labels should include instructions of use and proper packaging.

3) Preserve Technical Files of Manufacturing Stage

There must be proper documentation demonstrating evidence for every manufacturing stage:

Medical device components and material specifications
Medical device product specifications
Validation results of manufacturing processes
Risk Management Registry of a medical device
Design verification records for medical devices
Design validation reports and clinical evaluation
Labeling specifications and instructions for use

4) Ensure Product Conformity Assessment

Your device's class type (Step 1) will determine the review path(s) it will take to achieve conformity. The review paths include the following:

Complete Quality Management System Review
Product Design Verification and Validation Review
Self-declaration of Conformity
Review of Quality Management System for Manufacturing
Review of Quality Management System for Product
Review of Batch Release

5) Approve Declaration of Conformity

Once the conformity assessment is complete and all qualifications are documented (technical files), the device is deemed compliant and is ready to receive a CE marking.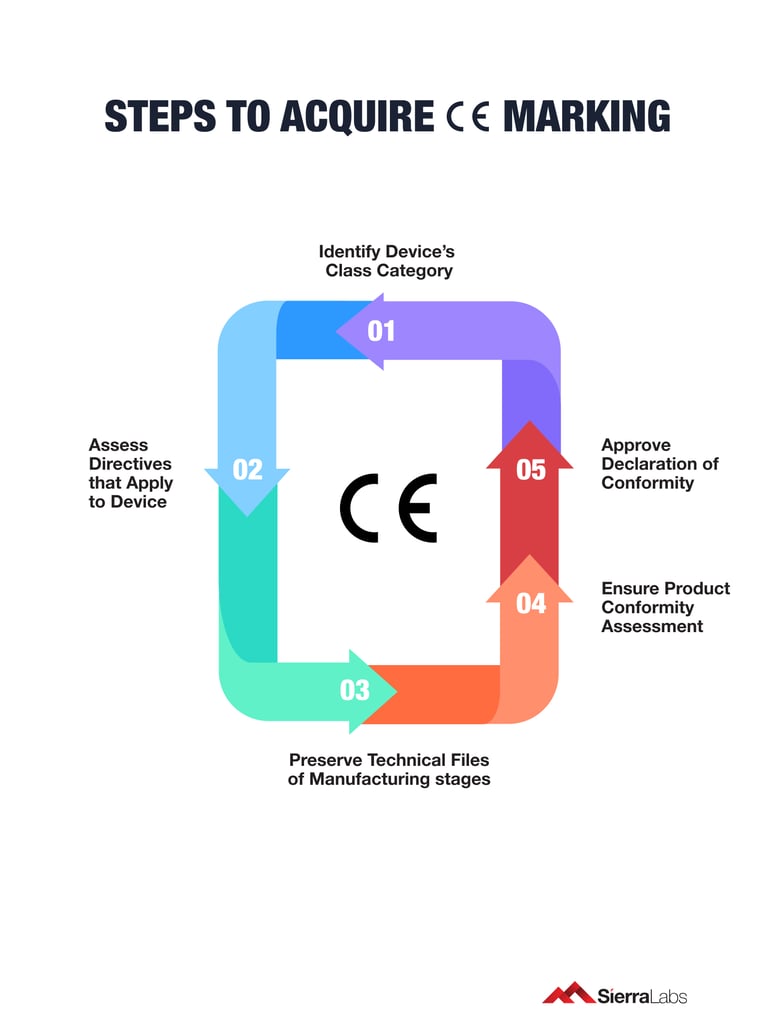 How ISO 13485 can help you attain CE for your Medical Device
ISO 13485:2016 is an international standard for Quality Management Systems (QMS) of medical device manufacturers and providers. You can read more about it here, ISO 13485:2016.
Since the scope and embodiment of review is heavily influenced by the the selection of review path, it can be beneficial to have a Quality Management System cover most of the review routes before the assessment even takes place. Most of the European "New Approach" Directives are met by a compliant ISO 13485 QMS. A Quality Management System can help simplify the technical documentation process during each manufacturing stage.
Companies with an implemented QMS have seen a notable difference in obtaining CE mark for their products.
Do you have a QMS?
Obtaining a CE Marking can be a difficult process, especially without the proper tools! You can be more prepared to overcome the regulatory process of CE Marking with Sierra's Quality Management System, also compliant with ISO 13485.
Sierra Quality Management System (QMS) offers you a robust start to conquering a CE marking for your medical device. Sierra's QMS will help you optimize the technical documentation processes behind every step avoiding any setbacks (and disadvantages) for your business.
Sierra QMS is designed for organizations that are looking to market medical devices in a global regulated environment. It is built for engineering teams to operate with their preferred tool-sets while automating compliance with medical device QMS principles for global markets.
Want to see how Sierra QMS can help your Medical Device get CE certified?
Download our free White Paper to learn more!
Ask us anything.