Automation Myths standing in the way of progress in our healthcare system.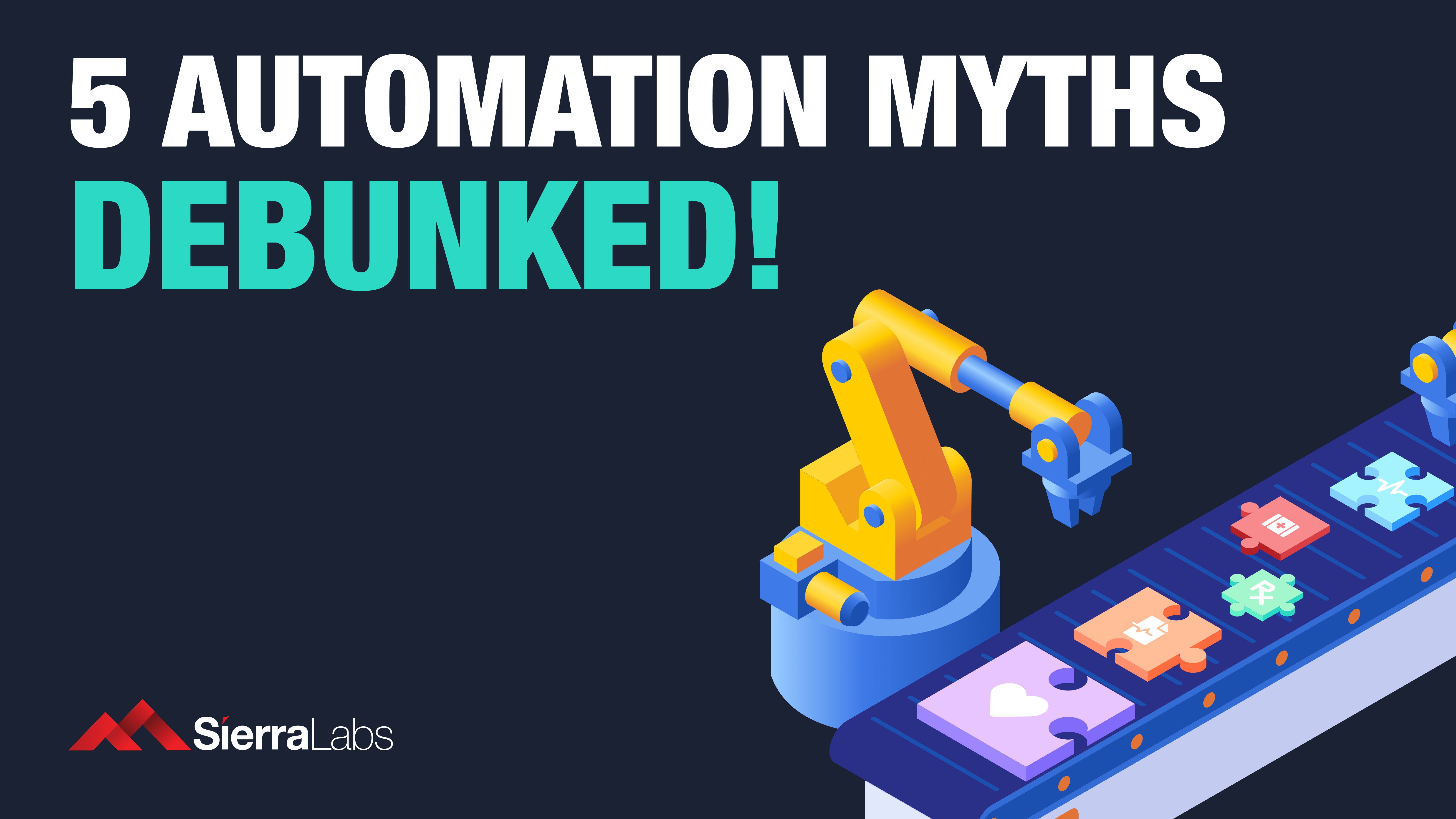 Automation has come a long way from the days of the steam engine or even temperature control to what we see in our daily lives. As automation continues to evolve, its presence has become known in industries like Healthcare and Life Science.

Despite the various technological advancements in industries like Healthcare, automation has come with a few worries. In the case of life-saving industries such as Healthcare and Life Sciences, serious harm can be done to the population if these myths stand in the way. Within the industry, there are myths about automation not meeting expectations for Healthcare and Life Science organizations.

Myths of Automation

Below we will debunk some of these myths:

1. Automation only works for repetitive tasks

We can all agree that repetitive tasks are much better if they are simply automated to save time and money, but it doesn't have to stop there! Automation isn't only capable of replacing repetitive tasks but also processes that require several steps. Here are some examples of processes that can also be automated: applications, databases, programs, websites, etc.
2. Projects fail because of automation

Automation isn't perfect, but it is often blamed for many project failures. According to statistics, projects commonly fail because teams misidentify business objectives. In order for automation to work, an organization must first identify the business objectives it hopes to achieve with implementing a new automated process.
3. Automated systems aren't trustworthy

A common misperception of automated solutions is that they take away control from decision-makers and make your business less transparent to your team and even your patients. This is simply not true, because automation actually provides more visibility for your organization with up-to-date and accurate reports of every workflow and process. This makes it easier to manage your staff and also meet business objectives.
4. Transitioning into automation is expensive

It can be easy to stick with traditional methods for healthcare systems especially when it seems cheaper. A new automated system can be seen as a luxury that only bigger organizations have integrated to run their millions of employees and customers. This is also not true! Companies like Sierra Labs provide automation tools fit for small businesses and startups in the Healthcare and Life Science space.
5. Getting your team on board is tough

It can be easy to think negatively about any transition, especially when it comes to your employee's jobs. We are here to reassure you that any initiative your organization takes towards automation should help employees do their work more efficiently, not diminish your team. Automative solutions gives your team more time for creative thinking and higher-value tasks.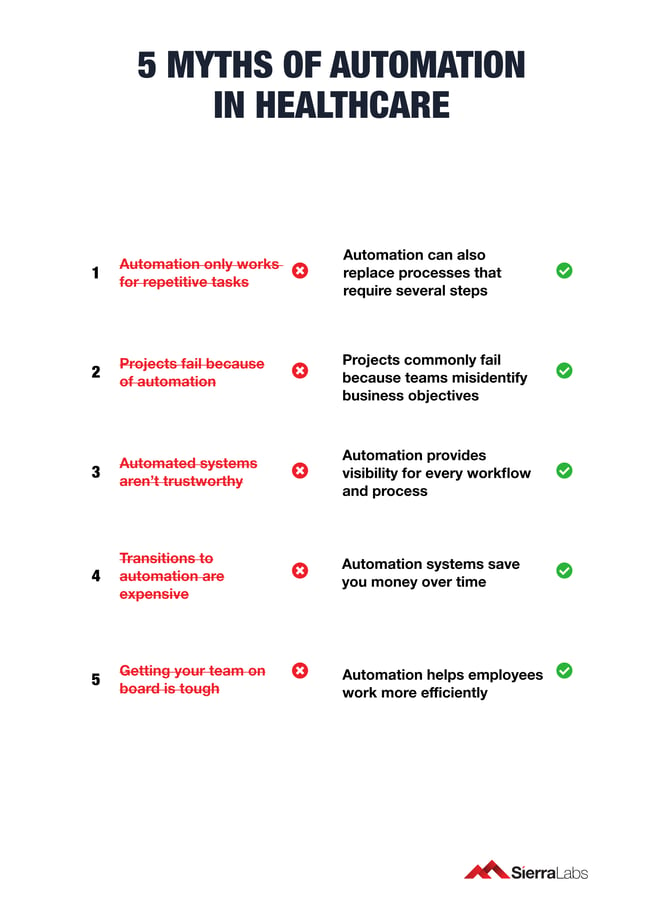 What does this mean for your business?
Adopting new technologies isn't an easy decision, but it can definitely come with benefits that outweigh any potential costs.
We can all agree that embracing technological shifts requires thoughtful and strategic implementation. The proven performance of automation is truly captured when your organization can identify the gaps it can fill.
Like any technologies' evolution, future advancements in AI will continue to improve the power of automation to perform more complex tasks and keep up with your organization's needs.
Check out our blog, Demystifying AI in Healthcare, to learn more about AI's increasingly vital role in our Healthcare system.
How can we help you automate your business?
Partnering with a team of experts that understands automated systems can overall enhance your operations and reduce any setbacks on your journey to market!
Here at Sierra Labs, we believe automation technology is the key to liberating innovation in the regulatory space. We understand what automation entails for your business, which has fueled our creation of various automated compliance tools to help automate your business' management of documents, trainings, non-conformances, CAPAs, and verification processes.
Sierra QMS is one of our automation tools that is designed for Healthcare and Life Science organizations that seek an agile method to market their products in a global regulated environment.
To check out more of our automation tool, check out our website, or drop us a note! We have helped multiple organizations, like yours, integrate automation into their business.
Want to see how Sierra QMS can help automate your business?
Download our free White Paper to learn more!
It's that simple!