Unpacking the 4 stages of a Clinical Development Program.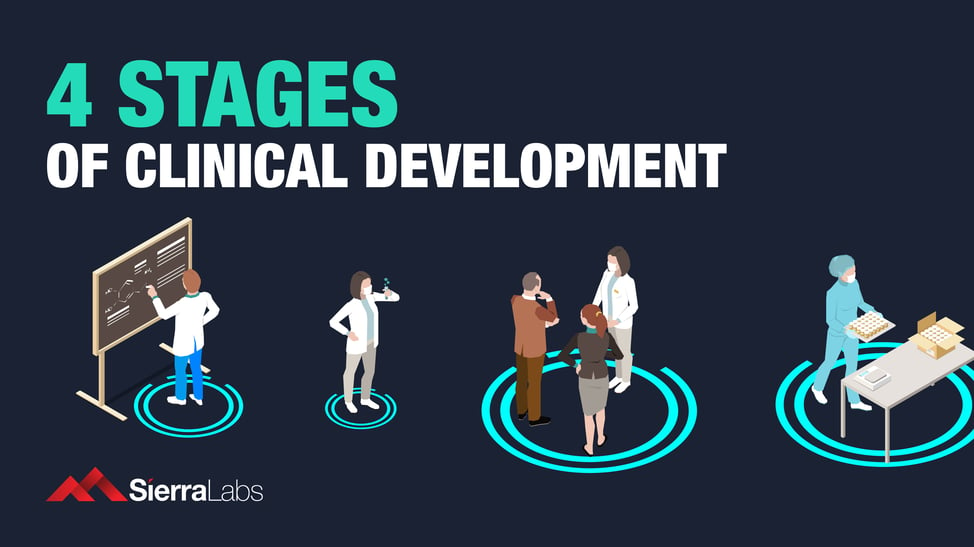 Are you a pharmaceutical company that has made a recent drug discovery? Chances are, your product finds itself in the early stages of its clinical development. There are a few stages before your drug or biologic can actually gain FDA approval to market.
Since making a good impression with the FDA can be a nerve wracking process, the best preparation is obtaining a glimpse at the journey that lies ahead.
Mapping the objectives of your product's lifecycle will ensure your team does not miss any essential steps. Below we have created a roadmap known as a Clinical Development Program for your product to reduce the stress of gaining approval to market.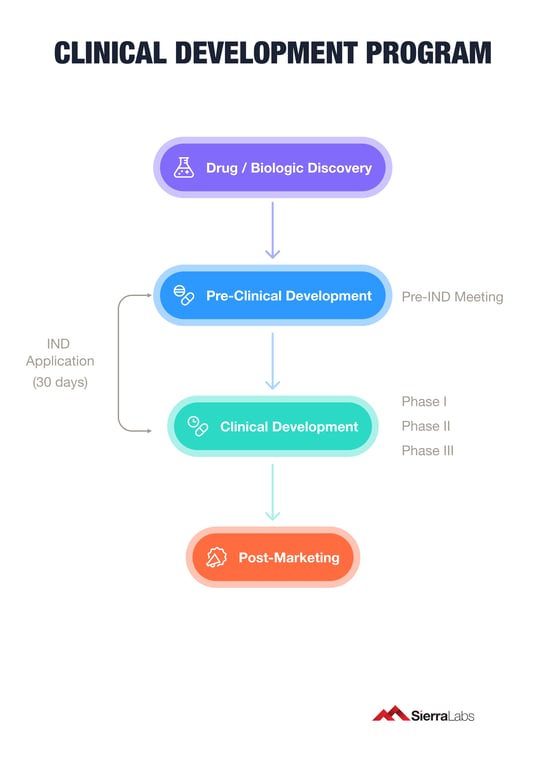 FDA Pre-IND Meeting
The first stage of your Clinical Development Program includes gathering necessary information about your drug or biologic to present to the FDA. The best way to do this is by engaging with the FDA to gain valuable insights around your product's individual journey. This first engagement with the FDA is known as an Investigational New Drug (IND) application. An IND ensures that subjects or patients will not face "undue risk of harm" in a clinical investigation of your drug or biologic.
Think of this stage as an opportunity to obtain the right input from the FDA for you to set the stage for your product's lifecycle. At this stage, you should compile a list of questions or concerns in preparation for your meeting with FDA officials.
This meeting is a review in order to reach an agreement on the scope and design of animal testing prior to initiating human testing.
Need help compiling your FDA Pre-IND Meeting questions? We can help!
IND Document Preparation
Before being granted an IND, your team must submit a briefing document to the FDA at least one month or 30 days before the scheduled meeting date.
In short, the briefing document should provide a summary of the product with any supplementary information needed to develop a contingency plan for potential issues that may arise during clinical trials. Depending on the product, the information may include:
Indication
Phase of product development
Issues that may arise.
The main objective for this stage is that the content within the document supports the intended objectives.
Need help preparing your IND documents for FDA? We can help!
4 Phases of Clinical Trials
If the FDA decides that your team has compiled the necessary information to validate your drug or biologic discovery, the following stage is assessing the safety and effectiveness of your potential treatment through a series of clinical trials or studies.
These are broken down into 4 different phases in order to know if they should be approved for the general population. Treatments having acceptable safety profiles and showing the most promise are then moved into clinical trials.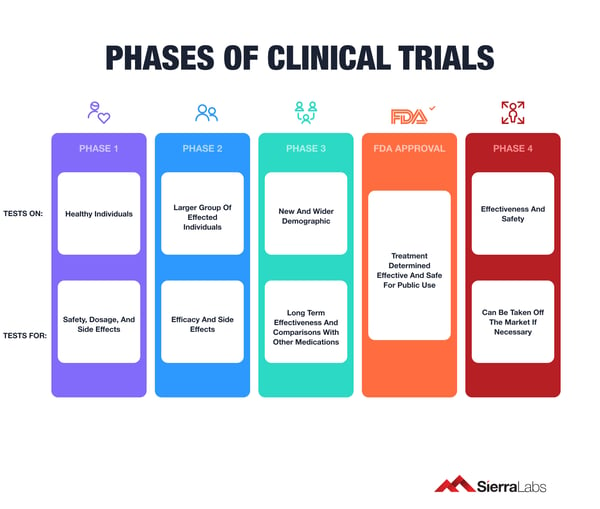 Phase I
This phase deals with finding the highest possible dose and the treatment delivery. The tests in this phase are conducted on healthy individuals to highlight any side effects.
Assigning the right imaging biomarkers to your clinical trials is a great strategy during this stage.

Medical imaging will provide effective primary, secondary, and exploratory study endpoints that can be useful throughout the rest of the clinical trial phases.
Phase II
Phase II of a clinical trial involves several hundred participants who are living with the condition that the new medication is meant to treat.
Investigators monitor participants to see how effective the medication is and to gather more information about any side effects it might cause.

Depending on the type of drug or biologic, this stage may take a few months to a few years.

While phase II involves more participants than earlier phases, it's still not large enough to demonstrate the overall safety of a medication.
Phase III
Most phase III clinical trials have a large number of patients, at least several hundred. These studies include a larger demographic and usually last longer than Phases I and II.

The main objective of this phase is to meet patient enrollment requirements. To do this, your development team must take the time to understand your patient population to avoid costly challenges and stay on course.
Phase IV
This level of studies are conducted after a drug has been approved for consumer sale. Pharmaceutical companies have several objectives at this stage:
Compare a drug with other drugs already in the market
Monitor a drug's long-term effectiveness and impact on a patient's quality of life
Determine the cost-effectiveness of a drug therapy relative to other traditional and new therapies.
This phase can result in a recall of the drug if any complications due to public consumption may arise.
Ready for FDA Submission
After successfully completing the Clinical Trial stage of your product's Clinical Development Program, your team can choose the following types of submissions:
1. New Drug Application (NDA)
The NDA is a formal request made by a sponsor to market a new drug in the United States. NDAs are typically regulated by FDA's Center for Drug Evaluation and Research (CDER)
2. Biologic License Application (BLA)
Just as an NDA does for a small molecule drug (and select other classes), the BLA is a request for permission to introduce a biologic product to market. BLAs are typically regulated by FDA's Center for Biologics Evaluation and Research (CBER)
How Cloud Can Accelerate Your Time to Market
Designing a Clinical Development Program for your product requires the right toolset to meet the objectives for every stage. Luckily for you, there are cloud technology tools that can improve traceability and increase audit-readiness for clinical trial data!
Here at Sierra Labs, we have developed an automated cloud validation tool, Sierra Cloud, for organizations that are developing drugs and biologics to provide a stronger level of flexibility and security in achieving regulatory compliance.
We have assisted a multitude of pharmaceutical organizations in bringing their solutions to life by shrinking compliance costs and allowing for more focus towards the drug or biologic's development stages.
It's never too early in your product's clinical development to utilize Sierra Cloud to automate your GxP cloud validation and slash your overall cost of compliance.
Want to Automate Your GxP Cloud Validation?
Get a Free Sierra Cloud Demo today!
Automation is the future of GxP.