Digiteyez Technologies uses Sierra QMS to streamline compliance processes and tackle FDA regulations for their medical device, Clear.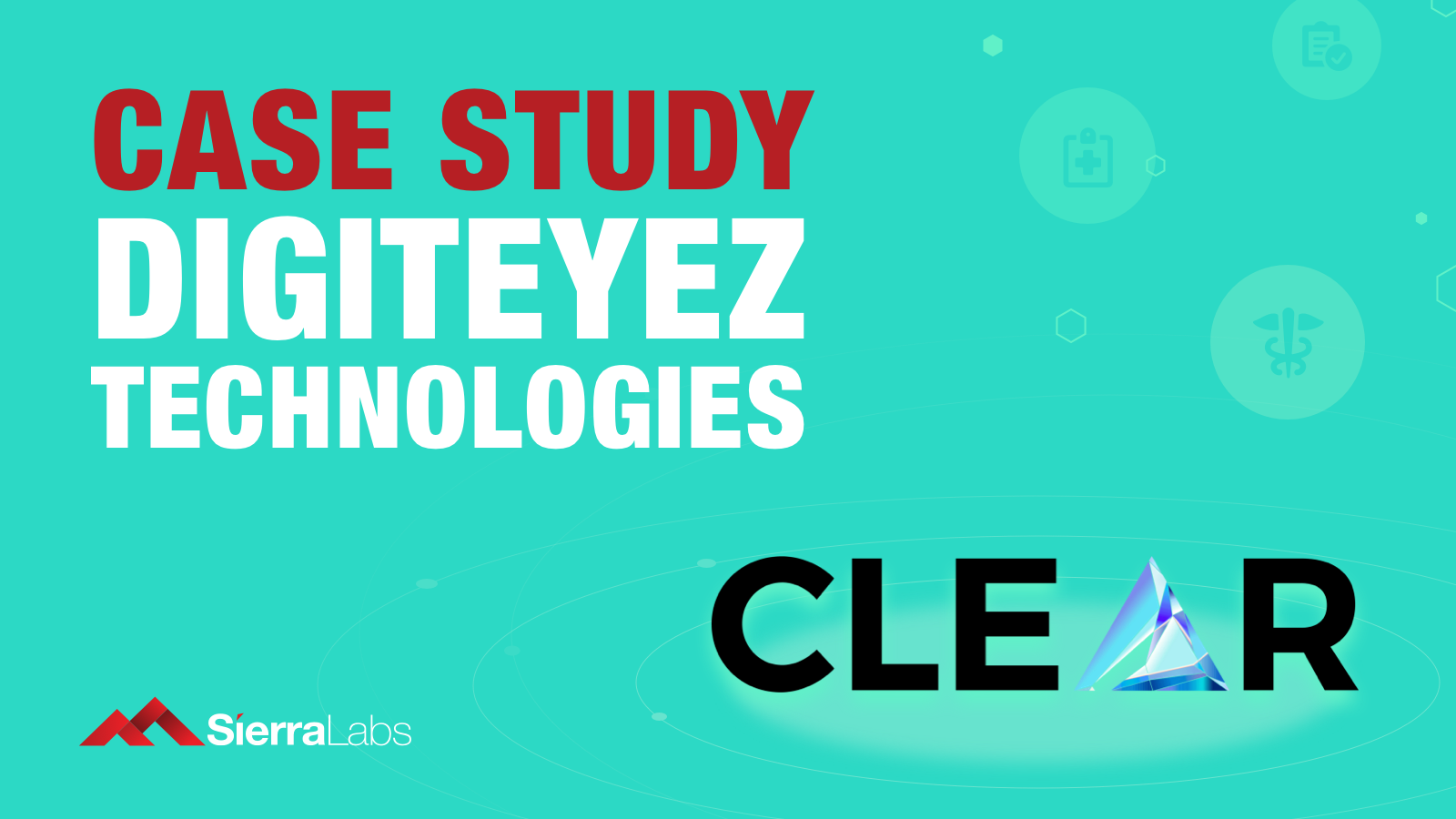 Background
Due to the global pandemic, optical professionals across the healthcare industry have pivoted on how to provide care for their patients. Digiteyez Technologies is a medical device company based in Washington DC that has created an innovative digital eye test called Clear. Using patented algorithms for modeling eyes and simulating vision, Clear allows optometrists to personalize individual prescriptions. Clear makes it easy to generate brand new prescriptions or update old ones, anywhere and at any time. Optical professionals benefit from this support by granting their patients an accurate remote eye test from the comfort of their own homes.
There are two billion people around the globe who need some form of vision correction and have no access to glasses or contact lenses and Digiteyez Technologies is working tirelessly to change this.
Digiteyez Technologies is seeking regulatory approval for Clear in order to partner with optical retailers, both big and small, to optimize the omnichannel experience.
Quality Challenges
Digiteyez Technologies began working with a third-party consulting company, Skylar Consulting, to develop Standard Operating Procedures (SOPs) and other vital quality documentation for their new software as a medical device, Clear. With all of this new documentation of workflows and development processes, there was an apparent need for a Quality Management System that could not only harbor all of this information but also use smart and agile logic to reduce the manual labor that comes with it.
Digiteyez Technologies was tasked with finding an eQMS that could:
Use agile methodologies and allow for the fast-changing environment of a technological startup.
Start out light and become more robust as the company scales and grow.
Come with a compliance team that would provide support to their internal team and third-party consultants.
Drastically reduce the manual overhead and cost of compliance while accelerating time to market.
The right system would need to be agile and highly customizable to check all of the boxes and fit all of their needs.


Quality Solutions

After searching through all of the QMS players in this space, Digiteyez Technologies decided to go with the agile Sierra Labs' Quality Management System, Sierra QMS. Not only did Sierra QMS make it easier for Digiteyez Technologies to manage their document creation process with their SOP provider, but it has also given them the flexibility that early-stage companies need to pivot quickly while helping them improve collaboration with many different stakeholders across distributed environments.

By adopting Sierra QMS, the Digiteyez team is able to create and manage training plans across their organization, assigning trainings accordingly by individual and team. With an easy training management tool, members and stakeholders have access to trainings required by SOPs to guarantee compliance.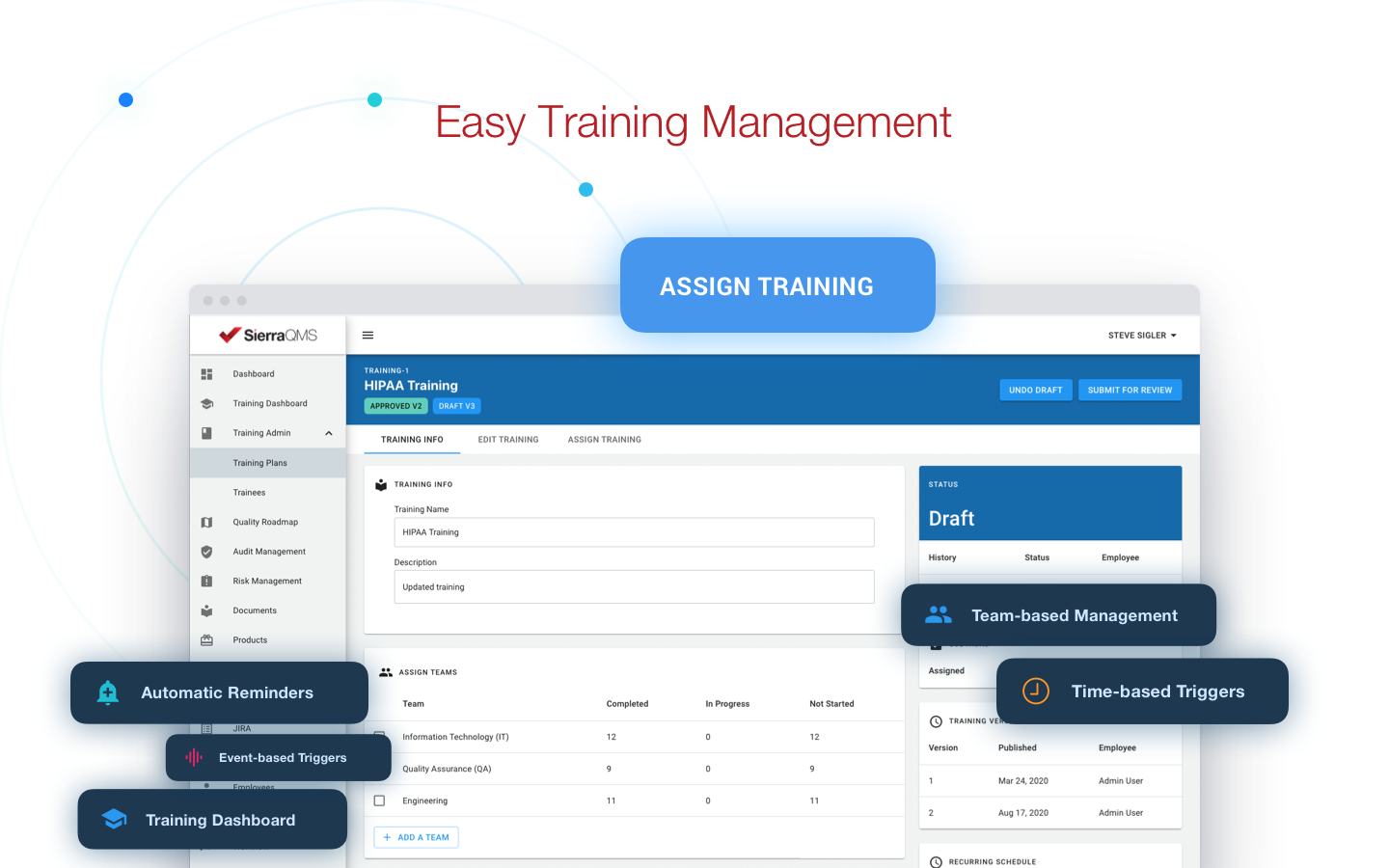 Publishing documents was also simplified for the Digiteyez team, which will come in handy when there are audits, inspections, or even submissions for their medical device in the future. Sierra QMS has allowed their team to easily track workflow transitions for documents and maintain full traceability.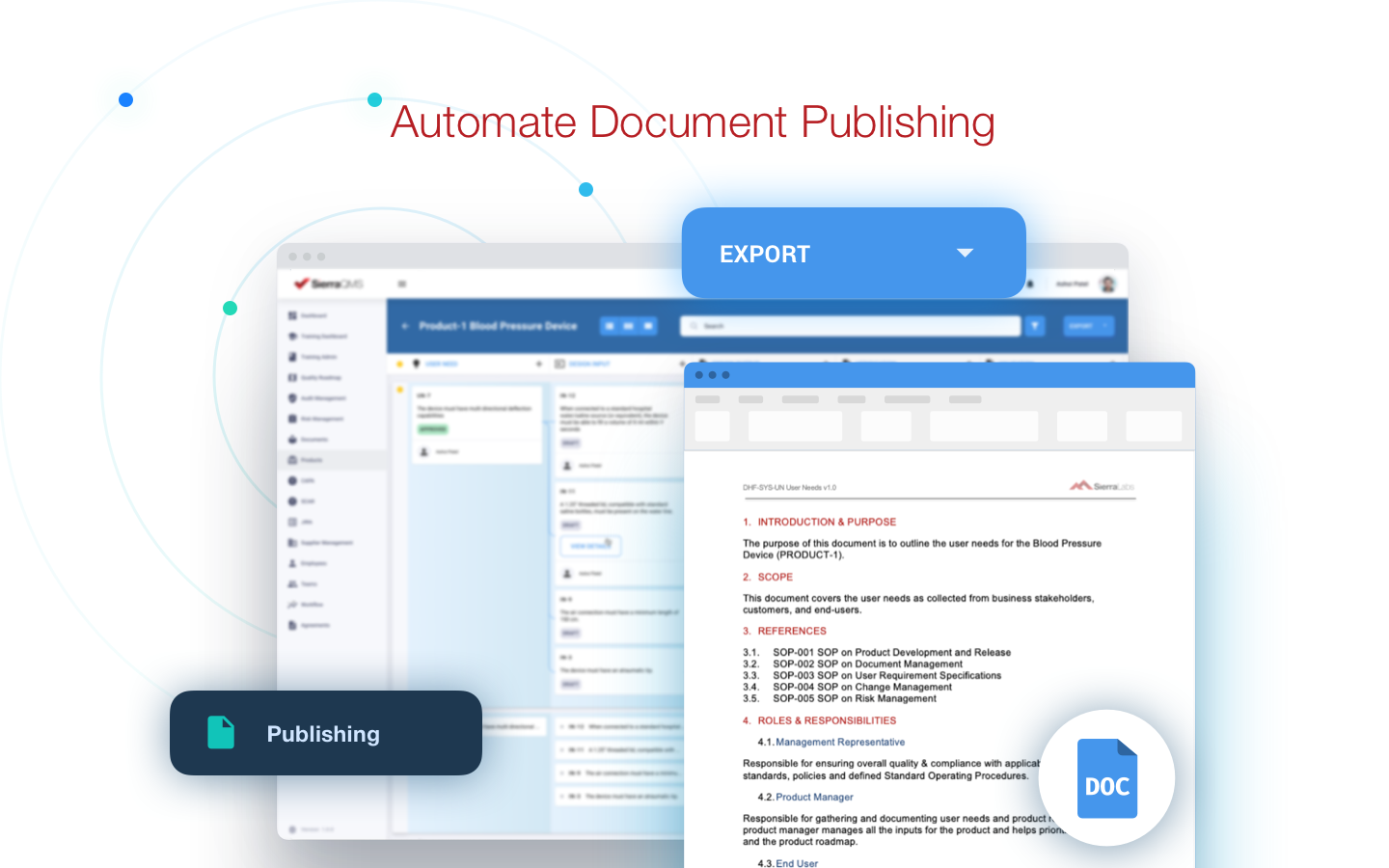 Quality Results
As a small, agile startup, Digiteyez Technologies didn't need a complex and overloaded QMS with unnecessary tools that could ultimately slow down their product development. After demoing QMS software from Greenlight Guru and Qualio, the Digiteyez Technologies team decided to implement Sierra QMS into their organization after seeing how customizable and scalable it truly was. One size does not fit all when it comes to an efficient QMS software.
Sierra QMS provided Digiteyez Technologies with efficient tools to ensure transparency between their team and quality processes. Implementing the necessary training requirements for their team took their product, Clear, one step closer to reaching FDA submission. As a result, they improved quality by guaranteeing their workforce had access to critical documentation, such as SOPs and Policies, and could efficiently manage these documents with ease within the system.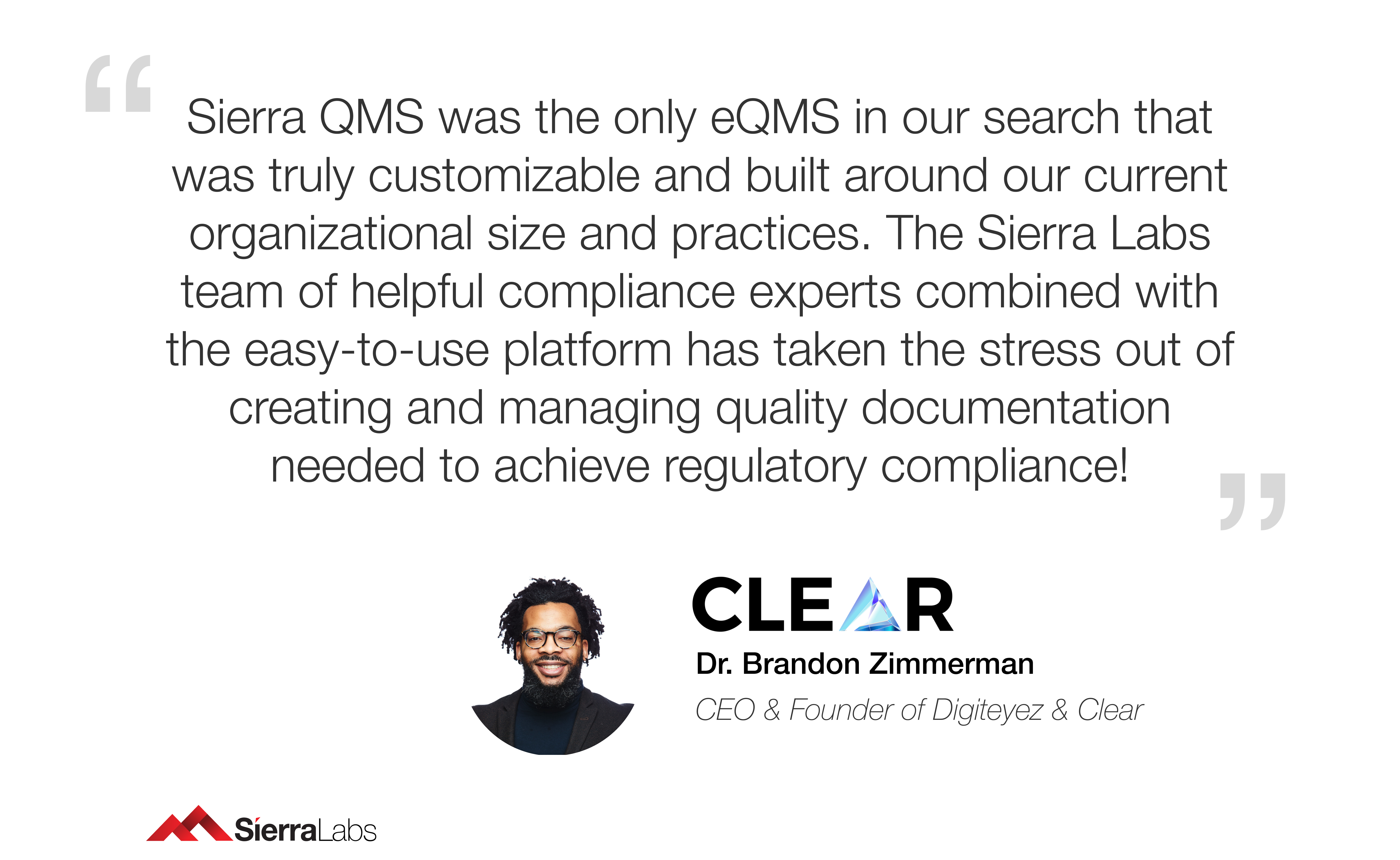 "Sierra QMS was the only eQMS in our search that was truly customizable and built around our current organizational size and practices. The Sierra Labs team of helpful compliance experts combined with the easy-to-use platform has taken the stress out of creating and managing quality documentation needed to achieve regulatory compliance." - Founder at Digiteyez Technologies
Compliance Made Easy
Having a centralized, automated quality system will elevate the quality standards of your Life Science organization's processes during this unprecedented time. Without a Quality Management System (QMS), teams may fall short due to the lack of a controlled system to conduct reviews and approvals affecting your business' quality processes.
With Sierra Labs, Digiteyez Technologies was able to efficiently create training plans to ensure their team completed the necessary training requirements for compliance. Their workforce has access to critical documentation, such as SOPs and Policies created by their third-party experts improving quality and compliance.
Sierra QMS is a QMS for life sciences that will automate your workflows and documentation management to instantly increase the level of security your team needs to deliver a quality solution. Having the proper tools to manage your business during this time starts by centralizing all activities and tracking the progress of work to avoid setbacks. In a remote working environment, workflow automation makes all of this possible.
Want to see how implementing Sierra QMS will help you achieve quality processes?
Click Here for a Free Demo!
It's that simple!