Everything you need to know about cannabis compliance and how it affects your business.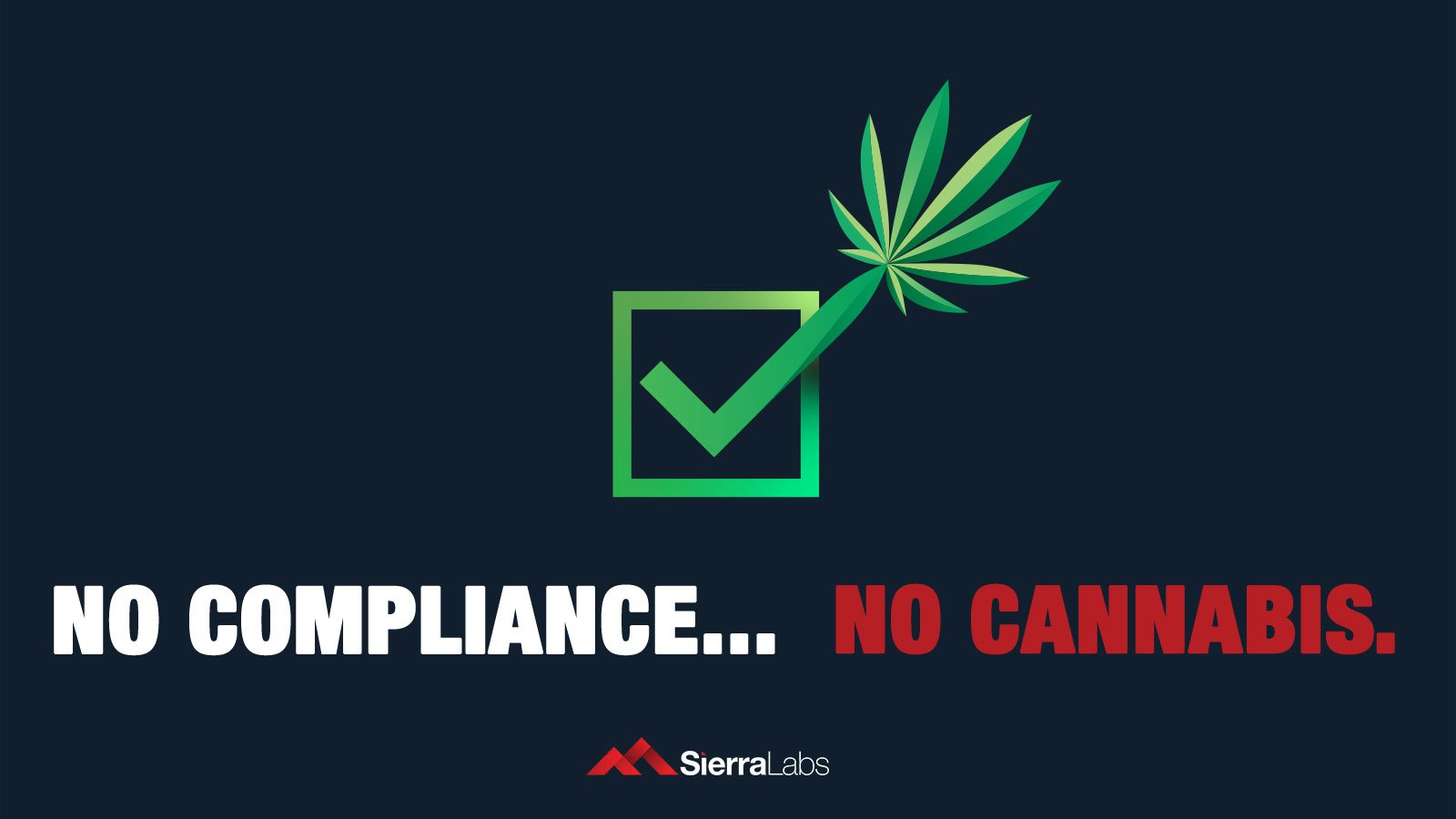 As the number of states legalizing marijuana increases, so do the regulations around it. Compliance around cannabis can be a real pain, but regulations are in place to protect consumers and enhance overall public safety.
The most important rule of thumb that you and your company must understand before manufacturing your CBD, hemp, or cannabis product is: No Compliance, No Cannabis! In order to legally get to market and sell to consumers, you must be compliant with your individual state's regulations, as well as the federal regulations.
First let's define some key terms so that there is no confusion throughout the rest of this blog.
What is the difference between Cannabis and Hemp?
Cannabis, or marijuana, is a plant from the Cannabaceae family that contains more than eighty biologically active chemical compounds, the 2 most common being CBD (Cannabidol) and THC (Tetrahydrocannabinol).
CBD: Cannabidol
A non-psychoactive compound of the drug. That means it doesn't produce the "high" associated with THC.
Found primarily in extractions from the hemp plant.
It's sold in oils, gels, supplements, gummies, extracts, and more.
CBD can have no more than 0.3 percent THC to be legally sold in the U.S.
THC: Tetrahydrocannabinol
A psychoactive compound of the drug. Produces the "high" sensation.
Can be consumed by smoking marijuana as well as in edibles, oils, capsules, tinctures, and more.
Both cannabis and hemp produce CBD and THC, just in different quantities.
Cannabis (Marijuana):
Has a higher concentration of THC.
The average marijuana strain today contains about 12 percent THC.
Hemp:
Has a higher concentration of CBD.
Because hemp contains more CBD than the relatively low levels of THC, it's the ideal source for CBD oil.
What Regulatory Bodies Monitor Cannabis Compliance?
Despite medical cannabis laws being passed in 46 states and recreational cannabis laws being passed in 11 states (and climbing), cannabis is still illegal under federal law.
In order to get to market with a cannabis related product, you must be compliant with both federal and state laws. State laws vary depending on your location, but federal laws apply to all US companies.
The problem is, since cannabis is still illegal at the federal level and the legal cannabis space is very new, there aren't any federal laws that are specifically tailored to legal cannabis production and sale. Thus, many of the products that contain CBD, THC, or some other form of cannabis get cast under current FDA regulations already in place for similarly classified medical products.
For example, a CBD oil that is used as a cream will be regulated by the federal government as would an existing medical ointment on the market. An edible containing THC, on the other hand, would be regulated by the federal government as any other food products are, as well as regulated for whichever medical claims the edible company has proposed for its consumers.
Since medical marijuana will be regulated as any other food or drug, the FDA will be the federal regulating body you will be dealing with the most.
Make sure to look up your specific state's laws surrounding cannabis before you start manufacturing. Then comply to both these state laws and federal laws enforced by the regulatory bodies listed below.
Federal cannabis regulatory bodies:
Federal Trade Commission (FTC)
Food and Drug Administration (FDA)
State cannabis regulatory bodies: (depends on your state, but here are some of the well known regulators)
Alaska Marijuana Control Board (MCB)
California Bureau of Cannabis Control

San Francisco Office of Cannabis

Colorado Department of Revenue Enforcement Division Marijuana Enforcement (MED)
Illinois – Illinois Department of Financial and Professional Regulation, Cannabis Regulation Oversight Officer
Maine – Department of Administrative and Financial Services, Maine Medical Marijuana Program (MMMP)
Maryland Medical Cannabis Commission
Massachusetts Cannabis Control Commission
Michigan Department of Licensing and Regulatory Affairs Bureau of Marijuana Regulation
Nevada Department of Taxation
New Jersey Cannabis Regulatory Commission (proposed as of 2019)
New Mexico Cannabis Control Commission (proposed as of 2019)
New York Office of Cannabis Management (proposed as of 2019)
Oregon Liquor Control Commission
Vermont – Cannabis Control Board (proposed – legal but no regulatory agency)
Washington State Liquor and Cannabis Board
What Federal Regulations Do Cannabis Companies Face?
Again, since marijuana is still illegal at the federal level, there aren't specific federal regulations that apply solely to cannabis.
But to save you some time, we have read through multiple Warning Letters from the FDA (letters that threaten to shut down a company due to malpractice or non-compliance) and have created a list of the repeating regulations flagged for non-compliance by 2019 cannabis companies.
This list may seem daunting, with all of the varying section numbers and letters, but it is crucial that you read and understand what regulations your fellow cannabis companies are getting flagged for so that you can avoid getting a terrifying warning letter from the FDA.
The main regulations to look out for:
Federal Trade Commission (FTC)

Sections 5(a) and 12 of the FTC Act, 15 U.S.C. 45(a) and 52

It is unlawful to advertise that a product can prevent, treat, or cure human disease unless you possess competent and reliable scientific evidence, including, when appropriate, well-controlled human clinical studies, substantiating that the claims are true at the time they are made.
Federal Food, Drug, and Cosmetic Act (the FD&C Act)

FD&C Act, 21 U.S.C.

Section 301(a) of the FD&C Act, 21 U.S.C. 331(a)

It is prohibited to introduce or deliver for introduction into interstate commerce a misbranded drug.
Defines drugs as products intended for use in the diagnosis, cure, mitigation, treatment, or prevention of disease and/or because they are intended to affect the structure or any function of the body.

Sections 505(a) and 301(d) of the FD&C Act, 21 U.S.C. 355(a) and 331(d)

New drugs may not be legally introduced or delivered for introduction into interstate commerce without prior approval from the FDA.

Sections 512, 571, and 572 of the FD&C Act, 21 U.S.C. 360b, 360ccc, and 360ccc-l

To be legally marketed, a new animal drug must have an approved new animal drug application, conditionally approved new animal drug application, or index listing.

Section 201(g)(1)(B) of the FD&C Act, 21 U.S.C. 321(g)(1)(B)

Product is a drug if it is intended for use in the diagnosis, cure, mitigation, treatment, or prevention of disease in animals.

Section 502(f)(1) of the FD&C Act, 21 U.S.C. 352(f)(1)

Products are misbranded if labeling fails to bear adequate directions for use (see 21 CFR 201 below).

Section 301(ll) of the FD&C Act, 21 U.S.C. 331(ll)

It is a prohibited act to introduce or deliver for introduction into interstate commerce any food to which has been added a drug for which substantial clinical investigations have been instituted and for which the existence of such investigations has been made public, unless the drug was marketed in food before any substantial clinical investigations involving the drug were instituted.

Section 503(b)(1)(A) of the FD&C Act, 21 U.S.C. 353(b)(1)(A)

Prescription drugs can only be used safely at the direction, and under the supervision, of a licensed practitioner.

Section 201(p) of the FD&C Act, 21 U.S.C. 321(p)

Defines classifications for a "new drug".

Sections 201(ff)(3)(B) and 201(ff)(2)(A)(i) of the FD&C Act, 21 U.S.C. 321(ff)(3)(B) and 321(ff)(2)(A)(i)

Defines classifications for a "dietary supplement".
Code of Federal Regulations (CFR)

21 CFR 201

21 CFR 201.100(c)(2) and 201.115

Labeling must bear "Adequate directions for use" means directions under which a layperson can use a drug safely and for the purposes for which it is intended.
What is METRC? (Marijuana Enforcement Tracking Reporting Compliance)
If you are working in the cannabis space, you need to know about METRC compliance. METRC is a regulatory cannabis compliance system that monitors and tracks your entire production process.
METRC is utilized by the Marijuana Enforcement Division (or MED) to assist with auditing and monitoring of cannabis companies. It ensures compliance by identifying and tagging cannabis products, as well as monitoring the growth, transportation, and sale of marijuana plants.
It is best for your cannabis company to stay compliant with METRC because MED can conduct audits on your business at any point, for any reason. They conduct audits for many instances, such as obtaining or renewing licenses, complaints from consumers, or any other types of red flags in your cannabis production.
METRC is trusted by the government in each of the following states:
Alaska
California
District of Columbia
Colorado
Louisiana
Massachusetts
Maryland
Michigan
Missouri
Montana
Nevada
Ohio
Oregon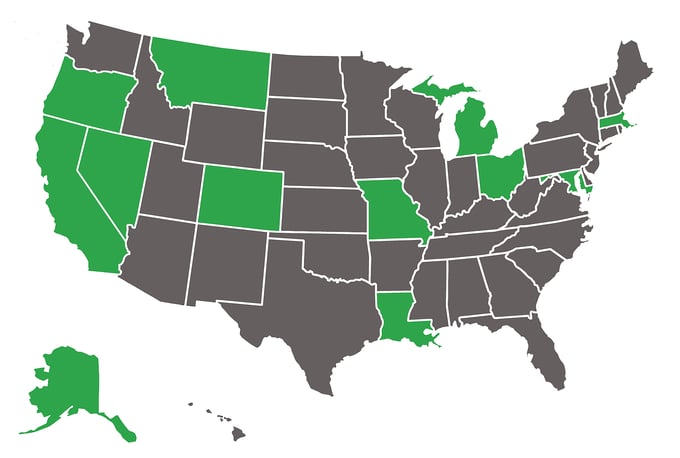 Image from Metrc
If you reside in one of these states, make sure that you are in compliance with METRC to prepare for any surprise audits headed towards your cannabis company!
How to Conquer Cannabis Compliance!
The easiest way to ensure cannabis compliance and decrease your time-to-market is to document everything and be meticulous with your record-keeping. Have every step of your production process documented and make sure that all of your testing, reporting, and approvals are recorded and ready to be presented to an auditor.
The most efficient way to do this is by having an effective management system in place that keeps all of these documents and records organized and traceable. All this documentation can mean a lot of paperwork, and a lot of paperwork means a lot of filing, and in turn, low traceability. The best solution to this problem is to adopt an automated system that organizes every facet of your production and ensures your compliance.
Ethos Automation System automates your data collection and organizes your documentation, helping you to both report to METRC and prepare for all of your audits. It ensures you stay compliant by automating your production line and combining your inventory management, production scheduling, and order management all in one convenient platform.
It is a stress-free and cost effective way to stay compliant and avoid any government push back in your cannabis production. Don't believe me? You should see for yourself!
Want to see how Ethos Automation System can help your cannabis company conquer compliance?
Check it out and see what you think!