Outlining the Preliminary Qualifications and Evaluation of FDA's Updated RTA Policy for 510(k) Submissions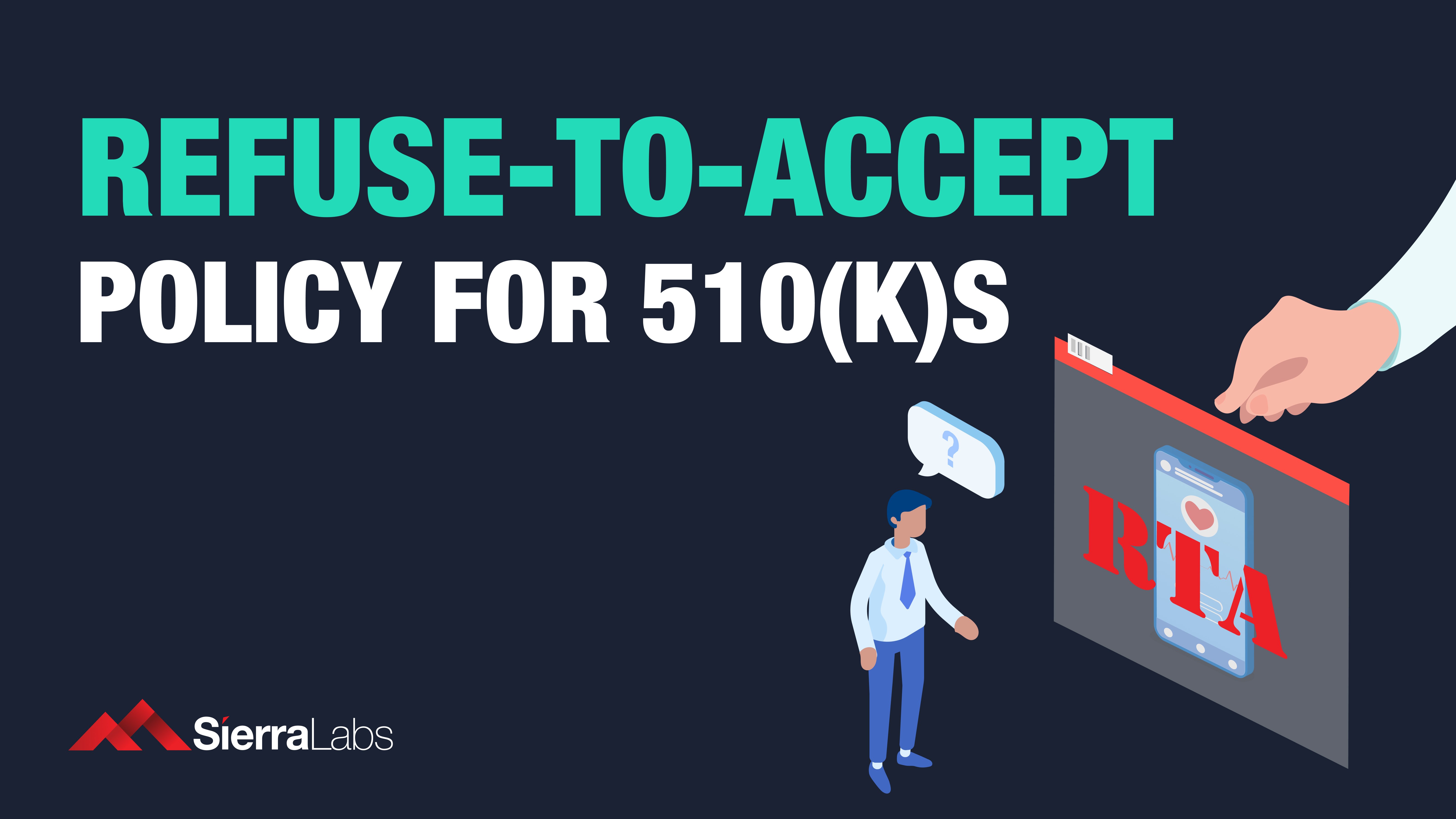 For new medical devices in the US, FDA 510(k) submissions might be the most promising regulatory path to market. Yet, many submissions are deemed incomplete by the FDA due to administrative inadequacy.
If you are not aware of the current Refuse-to-Accept (RTA) policy for FDA 510(k) submissions, you should get familiar. The RTA letter is a preliminary process ensuring your 510(k) submission has the substantive information required to proceed to the reviewing phase.
What is RTA?
The RTA policy establishes guidelines to ensure 510(k) submissions are complete. Submitters will be notified within 15 calendar days if their submission is incomplete under the RTA guidelines.
It is important to note that this guidance does not affect the "substantial equivalence" (referring to the device's comparison to the predicate), confirmed only through the actual submission.
Preliminary Screening to Avoid RTA Letters
As a 510(k) applicant, paying close attention to the RTA guidelines will help you advance more efficiently to your submission. Under these guidelines, your team will be able to identify what part of the submission is complete or missing.
We have outlined the questions from the FDA Refuse-to-Approve guidance documents below to save you time.

Preliminary RTA Questions

Summary

1) Is the device or a component of the device subject to 510(k) review?

If your device does not fall under 510(k) premarket notification requirements, consult with the Center for Devices and Radiological Health (CDRH) or Center for Biologics Evaluation and Research (CBER) to determine whether to continue or halt your RTA evaluation.

2) Was the device submitted to the appropriate center?

RTA reviewers will determine if the 510(k) is being submitted to the correct Center whether it be CDRH or CBER. Applicants will be notified if they didn't submit the application to the correct center.

3) Has a Request for Designation (RFD) for a device been submitted and assigned to the CDRH or CBER?

This particular question is asking if the device submitted for RTA is identical in characteristics and purpose to the one for RFD submission. Any modifications to a device or its indications for use occurring after its RFD determination but before its RTA review may require reevaluation before completeness and substantive reviews may continue.

4) Is the device type eligible for 510(k) submission?

Is the device under the acceptance review appropriate for the 510(k) registration pathway? If not, the review is stopped and the submitter notified.

5) Is the same device with the same indications for use also undergoing PMA?

In cases where the applicant has submitted the same device with the same indications for use for both 510(k) acceptance review and Premarket Approval (PMA) review, acceptance review will be halted until the proper registration pathway for the device is determined.

6) In cases where clinical studies have been submitted, is the applicant subject to the Application Integrity Policy?

If an applicant's submission includes clinical data and that applicant has been included in the FDA's Application Integrity Policy list, the applicant's substantive scientific review will be deferred, or any previously approved application will be withdrawn.

An investigation with the CDRH and/or CBER staff will initiate to determine whether acceptance review should continue or stop.
What Happens if I Get an RTA?
If the FDA issues an RTA letter for your medical device, it will not only be delivered with a rejection notice, but also with a clear distinction of the approved and missing components.
It is crucial that your team reviews over the questions above to assess if your device meets the criteria under RTA. After assessing, your team can connect (through phone or email) with the FDA reviewers of your preliminary submission to discuss resubmission.
Developing an Action Plan
There is a good chance that your team will find a few of these questions confusing after the first read through. You can avoid much of the confusion by developing an action plan that includes an organized timeline of your 510(k) submission, detailing milestones such as the preliminary RTA screening.
This action plan should also include completing the FDA's Pre-Submission Program, where applicants can engage with the FDA prior to an FDA 510(k). By doing this in advance, the device applicant can significantly increase the chances of having their device cleared with few to no requests by the FDA for additional information, and thereby have their devices cleared sooner.
Need help drafting your 510(k) Submission? We can help!
How to Prepare for a Pre-Submission
Even with an action plan, it can be difficult to overcome other regulatory hurdles before getting to the submission phase for your medical device. As mentioned above, there are plenty of FDA resources that can help you get your medical device's journey-to-market on the right track and avoid any delays.
Lucky for you, we have helped various medical device companies propel their innovations to market while leaping over every regulatory hurdle from the FDA. We have designed a free questionnaire to help you determine if you are prepared for your FDA Pre-Submission! It will help you design a strong and efficient regulatory strategy around your medical device and give you advice and feedback on next steps. Try it below to help you get ready for your meeting with the FDA!
Want to Prepare for your Submission and Avoid an RTA Evaluation?
Try our Free Questionnaire!
Quick and easy!