How strategic labeling can improve regulatory compliance and operational efficiency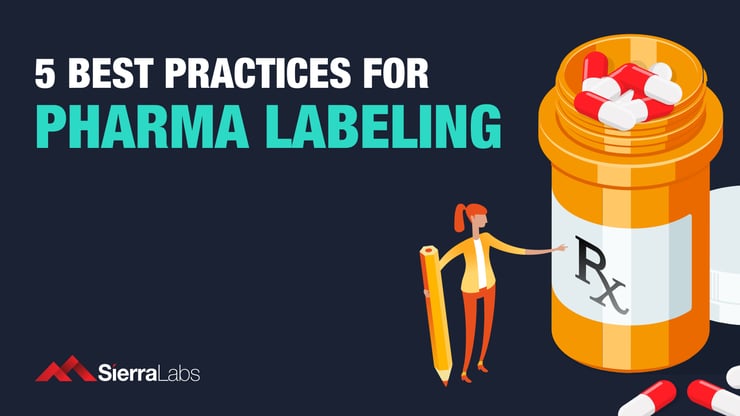 As a pharmaceutical company, it can be easy to fall into solely focusing on product development and manufacturing to produce a safe and reliable product. However, there can be hidden complications that can cost your company money and time if they are not also given priority. We are talking about labeling your product, an important component to achieving market approval.
Due to the unpredictable regulatory landscape of pharma, it is difficult for companies to assure their process up to date, including the labeling process.
Importance of Labeling in Biopharma
Because companies tend to focus on product and manufacturing procedures, processes like labeling are often forgotten during a product's lifecycle. The importance of having a proper labeling procedure gets lost in the mix of regulatory standards and product development. It can be difficult to concurrently participate in both processes with the same focus.
Labeling goes far beyond covering the Instruction For Use (IFU) as it helps pharmaceutical companies maintain compliance, improve operational efficiency, and support business growth. Failure to treat labeling as a strategic process can prove to be costly.
Labeling Regulations in Pharma
The mistakes most easily found by regulatory bodies are that of mislabeling products simply because they do not require a site inspection or any product testing. Despite how easy they are to find, they still result in hefty fines. To best identify where your company is making those mistakes is by inspecting the following documents.
Drug Supply Chain Security Act (DSCSA) from the FDA

The manufacturers who come under the regulations of this act must establish product tracing or a step-by-step account of where a drug product has been located and who has handled it.

Falsified Medicines Directive (FMD) by the EU

Manufacturers under this directive must ensure their pharmaceutical product has an encoded two-dimensional barcode printed on each unit of sale package with the necessary information to ensure legitimacy.
Both of these regulations have been implemented in order to make it easier to recall products in case of a product or safety issue. The FDA also has labeling-related guidelines for GxP for the pharmaceutical industry under 21 CFR Part 11.
How Labeling Can Effect Your Business
Beyond satisfying regulatory requirements, pharmaceutical companies face challenges that can be met through proper labeling. Keep in mind that the mislabeling of your product not only results in a hefty fine but also a disruption in the supply chain process. Product supply chains contain different measures such as bulk shipping or even repackaging of products a costly mistake.
There are also challenges with global market expansion. By not paying attention to labeling requirements across different countries, your product can find itself in a state of limbo while in the process of distribution.
By instilling proper labeling procedures, your company will be able to clearly identify a unique strategy to overcome challenges associated with pharmaceutical labeling.
Best Practices to Sustain Labeling Compliance
With regulations modifying at an unprecedented rate, it becomes necessary to have the best practices for the sake of your company's organizational efficiency.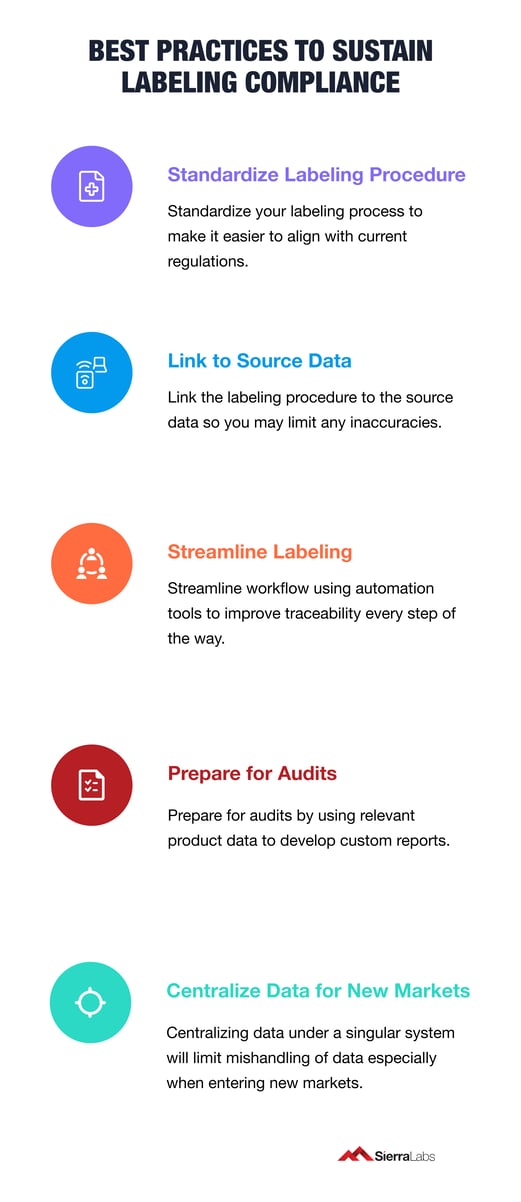 Standardize Labeling Procedure



Standardize your labeling process to make it easier to align with current regulations. By creating a standardized labeling process, your company will reduce the burden of keeping track of so many templates. In return, your process will be checking off the regulatory standards of keeping information accurate for manufacturing.

Link to Source Data



Link the labeling procedure to the source data so you may limit inaccuracies. With a cloud system, your company will be able to manage and update regulatory data of products in less time.

Streamline Labeling


Streamline workflow using automation tools to improve traceability every step of the way. Engaging members responsible for the layers of processes within the standardized labeling procedure will ensure accountability.

Prepare for Audits



Prepare for audits by using relevant product data to develop custom reports. There are technological tools that can help with unforeseeable audits on your product label.

Centralize Data for New Markets


Centralizing data under a singular system will limit mishandling of data especially when entering new markets. Depending on market of commerce, your product's labels will require updates prior to manufacturing such as proper language translations.
Instilling Labeling Best Practices for your business
With an ever-shifting regulatory space, pharmaceutical companies have to juggle multiple processes that leave them vulnerable to various risks. Sticking to traditional methods can take time only to fall short on your objectives.
To avoid this scenario, your company needs to incorporate a cloud-based system to help you instill labeling best practices. Upgrading to cloud will save you time and money all while ensuring all of your processes, including labeling, are working within the regulatory framework of the FDA EMA.
Here at Sierra Labs, we have developed an automated cloud validation tool, Sierra Cloud, to assist pharmaceutical companies with verifying their processes are compliant when bringing their solutions to market. With Sierra Cloud, your company will have the capability to develop audit-ready documents and reports while running automatic validation tests all in a manner of seconds.
Want to Automate Your GxP Cloud Validation?
Get a Free Sierra Cloud Demo today!
Compliance can be simple.